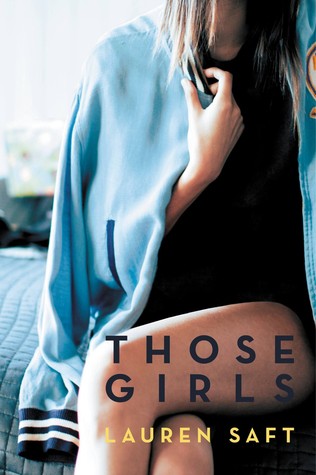 Title:
Those Girls
Author:
Lauren Saft
Published:
June 9th 2015 by Poppy
Source:
ARC courtesy of the publisher in exchange for an honest review
Goodreads
"Some girls will always have your back, and some girls can't help but stab you in it.

Junior year, the suburbs of Philadelphia. Alex, Mollie and Veronica are those girls: they're the best of friends and the party girls of the school. But how well does everybody know them--and really, how well do they know one another? Alex is secretly in love with the boy next door and has joined a band--without telling anyone. Mollie suffers from a popular (and possibly sociopathic) boyfriend, as well as a serious mean streak. And Veronica just wants to be loved--literally, figuratively, physically....she's not particular. Will this be the year that bonds them forever....or tears them apart for good?

Lauren Saft masterfully conveys what goes on in the mind of a teenage girl, and her debut novel is raw, honest, hilarious, and thought-provoking, with a healthy dose of heart."
I'm going to be upfront with you guys and tell you this will be a very unconventional review, especially for me. I hardly ever talk about my personal life on my blog, but this has been something that has been eating away at my soul for longer than I care to admit. Instead of breaking down THOSE GIRLS piece by piece, I'm going to write about toxic friendships and how this book inspired me to cut bad ties.
First off, I have to be honest and mention that this book wasn't one of my favorites. There's slut-shaming, unprotected sex, and just all-around terrible things that made me want to scream and tear this book in half. I will never, for the life of me, understand why girls are so awful to each other. The world isn't exactly fair, especially if you're a woman. Instead of calling each other sluts and whores, we should be empowering each other. To top that off, these girls are best friends? Really? Sex, parties, cheating, drugs, and I don't even know what else I'm leaving out, but sweet mercy, these girls need Jesus or something.
I definitely struggled with this book. Why would friends be so cruel to each other? Betray each other? What is wrong with these people. Then it hit me...
Some of my "friends" aren't exactly friends at all.
I've actually been dealing with issues involving multiple friendships ranging from feeling left out or their general lack of concern. Feeling left out is kind of tricky. I usually don't care if people do things without me. It's not like I'm inviting everyone to go to brunch, ya know? Here's the kicker though: If I know it's something that certain people would like to do or feel hurt if I left them out, I will most certainly invite them. I would hate for them to do it to me, and I genuinely despise hurting other people's feelings. Call it Catholic guilt, but hurting someone's feelings is not an option. The times I've left people out has been because I've had to limited number of people I can invite or thought the other person wouldn't enjoy it. Not everyone loves pub crawls or knows everyone I know, right? I understand situations like that. There are those, and then there are situations like this:
These girls leave me out of everything, and I hate to say it, but it f*cking hurts my feelings. Even when I invite them out, they ignore my texts and don't respond. I remember this one time I invited some of these girls to the movies. None of them responded, so I just figured they were busy or didn't want to go. On the day I wanted to go to the movies, at the same time I suggested, they posted a group photo of themselves online, at the movies all smiles and good times. Maybe I'm looking too much into this, but it kind of seems like they left me out on purpose. The pain I felt was real and a little foreign since I hadn't been that hurt in so long.
If I thought this was a fluke, I was proven that it wasn't multiple times now. One of them actually threw a Fourth of July BBQ and invited everyone in our "clique" but me. I only know this because again, posting photos online. Hurtful, right? My favorite part was when she texted me on Sunday to see how I was doing, I think knowing I knew what went down on Saturday, and trying to do damage control. "Oh ya know, it feels like you took a giant crap on my soul but other than that, not too shabby!".
Whenever I do see these girls (which isn't often), all they want to do is talk about themselves and how their lives are going. They're "Veronicas". They don't ask what's going on with me, ask how Chris is doing or even truly know what's going on in my life. Then, if they find out something great that happened to me (I got a raise, promotion, whatever), they get hurt at ME for not telling them. When? When you asked me what's going on in my life, and I tried to tell you, but you interrupted me to talk about you again?
Do they even know me anymore?
They sure care enough about me to ask to borrow my things, ask for favors, or ask me to go out of my way for them. It's seems to be more about what I can do for them than wanting to be my friend.
They also care enough to tell each other personal, private things I've told them and asked them not to share. Do you know how much that kills me? It wasn't your story to tell!
Sweet mercy, my life is a YA novel! Am I Janis Ian from Mean Girls?
I've actually talked to a couple of my other friends and even my husband about this. They told me to call them out, but I don't think I can do that. I hate confrontation. I've had that awkward friendship break-up before, and things were said that I meant at the time but wish I could take back. I'm not that
bitch
girl anymore.
"'Girls are horrible. I think that's normal. I think that's why you're all friends.'"
Sad but sometimes true. Maybe the fault is with me. Maybe I haven't been a good person or friend and should try harder.
Thus, I tried. I tried to save these friendships by inviting them out once more, by reaching out to them and asking if they wanted to hang out. Say when, and I'll make it work. To me, these relationships were worth saving, especially considering I've known some of these girls for more than half of my life. I told myself that if I just reached out enough, tried enough, we'll be able to move past this and rekindle our lost friendship. Fix is before it's too late. JUST DO IT!
You know what kinds of responses I received?
Either things like they're busy and will let me know (but never did) or none at all.
Friendship is a two way street. The crushing, hard, sad reality is if the other person isn't willing to try or even (at this point) want to make it work, then you can't fix it.
After reading THOSE GIRLS, I woke up and realized how incredibly angry I am. These truly are toxic friendships. They're the kind that take and take but never give. I don't think I have it in me to do this anymore.
As I'm writing this, I'm once again overcome by emotion and hurt. The truth is, I have cried many tears over these
friends
strangers, and I don't want to anymore. With that said, it doesn't mean I'm going to go out of my way or be mean to them. I'll remain kind and cordial, but I don't think our actual friendship can be repaired.
Thank you, THOSE GIRLS, for waking me up and reminding me what my true friends and husband have been saying for years- That I need to move on, because some girls are simply mean. Friendship break-ups are the worst, but it's better than constantly being hurt by the same people over and over again.