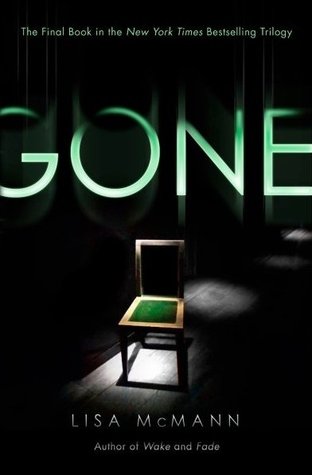 Synopsis:
Janie thought she knew what her future held. And she thought she'd made her peace with it. But she can't handle dragging Cabel down with her.

She knows he will stay with her, despite what she sees in his dreams. He's amazing. And she's a train wreck. Janie sees only one way to give him the life he deserves: She has to disappear. And it's going to kill them both.

Then a stranger enters her life — and everything unravels. The future Janie once faced now has an ominous twist, and her choices are more dire than she'd ever thought possible. She alone must decide between the lesser of two evils. And time is running out. . . .
I finished this a couple days ago, but didn't know how to feel about it. Of course, there's the sadness in knowing that this series is over. Even now, I can't believe it! After simmering over it, I finally came to the conclusion that, while I liked Gone, I'm disappointed in the way the series ended. So, let me attempt to piece this all together without completely spoiling anything.
Gone starts off strong. Janie is dealing with the repercussions of her actions in Fade and trying to piece together her life. There's still also Miss Stubin's journal and what's to come for Janie and her Dream Catcher ways. That's a lot to take on for a recent high school grad. Does she chooose to stay and deal or go and isolate herself from everyone she loves?
Then, the twist. I won't let you know what it is, but it's a good one. Not what I expected at all! So add that to Janie's crap pile life and you've got the workings for a good story.
A lot of the story seems to be Janie discussion why her life is so hard and how much it sucks. Yeah, okay, I get it. It DOES suck, but come on. Who likes a whiny MC? For one, she has Cabel. For those of you who have read Wake and Fade, Cabel's GREAT! He's a good guy and always there for her. And she also has Carrie, the Captain and all her cop buddies. So really, life doesn't suck so much. Get over it!
Lets go back to Cabel. I wish this story was told through his POV. To me, he's a more interesting character than Janie. There wasn't enough Cabel in Gone. I get why, but still. Maybe there should be a companion novel told through Cabel's POV? Please, Lisa? Pretty please?
*ahem*
So, a HUGE pet peeve of mine (if you haven't learned by now) are books that don't have a concrete ending. They just end abruptly. Or when they come full circle, where nothing is concluded, nothing happens and it ends the way it begins. If you can't guess by now, this is how I feel about Gone. I feel like nothing was resolved. And when that happens in the last book of a trilogy, that's when the disappointment hits. I hate that I'm disappointed in Gone. I really am! I've loved reading about Janie and Cabel's story, but I can't help it. I wanted something more.
I give Gone 3 out of 5 stars. I liked it, but it could've been better. I know others that loved this last one, but I guess I suffer from Dream Catcher gluttony. I just wanted more!