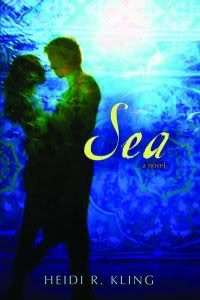 Haunted by recurring nightmares since her mother's accidental disappearance over the Indian ocean three years before, fifteen year old California girl Sienna "Sea" Jones reluctantly travels with her father's volunteer team to six months post-tsunami Indonesia. During her stay at the orphanage, she meets scarred and soulful Deni who is more like Sea than anyone she has ever met.
She knows they can't be together, so why can't she stay away from him? And what about her old-best-friend-turned-suddenly-hot Spider who may or may not be waiting for her back home? And why is her psychiatrist father so secretive about her mother's plane crash? The farther she gets from home, the closer she comes to the truth. And Sea's real adventure begins.
"SEA is a richly woven story as turbulent and beautiful as the sea itself, plunging us headlong into the depths of loss, devastation, compassion, and hope. A touching and romantic debut about the redemptive power of altruism and the heart's capacity for love
."
Sarah Ockler, author of TWENTY BOY SUMMER
"From the first page of SEA, the reader is plunged into a world of love, loss, and hope. The heat between Sienna and Deni is mirrored in the steamy exotic setting of Indonesia. Once I started reading, I couldn't put this book down. Sienna is conflicted and compassionate... I truly loved this book and can't wait to recommend it to all the teenagers I know!"
--L.K. Madigan, William C. Morris Award winning author of FLASH BURNOUT
"From the opening pages of SEA, the hair stood on the back of my neck, as it does whenever I encounter a writer who really knows what she's doing with words. Tragedies and miracles coexist in this entrancing debut novel about the aftermath of a tsunami."
-- Jennifer R. Hubbard, author of THE SECRET YEAR