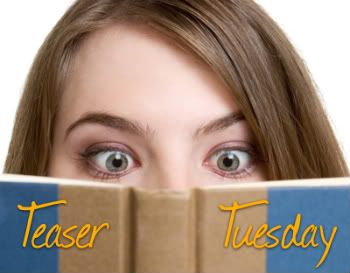 Teaser Tuesday is weekly meme hosted by Mizb at
Should Be Reading.
The rules are simple:
-Grab your current read
-Open to a random page
-Share 2 "teaser" sentences from somewhere on that page
BE CAREFUL NOT TO INCLUDE SPOILERS!(
make sure that what you share doesn't give too much away! You don't want to ruin the book for others!)
-Share the title & author, too, so that other Teaser Tuesday participants can add the book to their TBR Lists if they like your teasers!
This week's Teaser Tuesday is from Rules of Attraction (Perfect Chemistry #2) by Simone Elkeles. It's a little more than 2 sentences, but it's a GREAT scene. One worth sharing. If you've read Perfect Chemistry, you'll know what I mean(*wink wink*).
"He laughs. 'That's what I said to Paco when he warned me about Brittany.'
'Let's get this straight once and for all. I'm not you. I'll never be you. And if I tell you there's nothin' between Kiara and me, I mean it.'
'Fine.'
'She annoys the *beep* out of me most of the time, anyway.'
My brother's response is another laugh."
Page 157