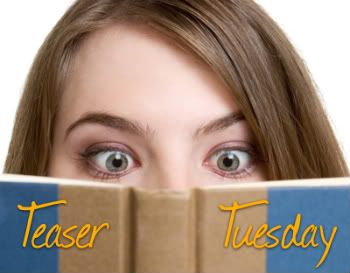 Teaser Tuesday is weekly meme hosted by Mizb at
Should Be Reading.
The rules are simple:
-Grab your current read
-Open to a random page
-Share 2 "teaser" sentences from somewhere on that page
BE CAREFUL NOT TO INCLUDE SPOILERS!(
make sure that what you share doesn't give too much away! You don't want to ruin the book for others!)
-Share the title & author, too, so that other Teaser Tuesday participants can add the book to their TBR Lists if they like your teasers!
This week's Teaser Tuesday is brought to you from The Unwritten Rule by Elizabeth Scott.
" 'It was fun,' Ryan says, which is a nice thing to say, a him thing to say, but when I look at him, one more look before he goes back to the party, to my best friend, he's looking at me like-

Well, like he wants to look at me."
Page 36.