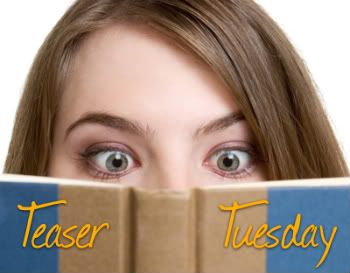 Teaser Tuesday is weekly meme hosted by Mizb at
Should Be Reading.
The rules are simple:
-Grab your current read
-Open to a random page
-Share 2 "teaser" sentences from somewhere on that page
BE CAREFUL NOT TO INCLUDE SPOILERS!(
make sure that what you share doesn't give too much away! You don't want to ruin the book for others!)
-Share the title & author, too, so that other Teaser Tuesday participants can add the book to their TBR Lists if they like your teasers!
This week's Teaser Tuesday comes from The Iron Daughter by Julie Kagawa (Iron Fey #2). This is going to be a bit longer than 2 lines, but you kind of need it to get the full effect. Don't worry, it's not spoilery!
"'I had to make everyone believe I didn't care, or they would've torn you apart. Emotions are a weakness here, Meghan. And the Winter Court preys on the weak. They would've hurt you to get to me. Now, come on.' He reached for me again, and I let him take my hand without protest. 'Let's get out of here before it's too late.'

'I'm afraid it's already too late,' drawled a snide, familiar voice, making my heart stop."