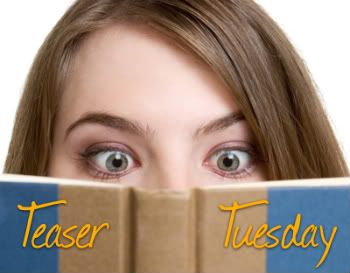 Teaser Tuesday is weekly meme hosted by Mizb at
Should Be Reading.
The rules are simple:
-Grab your current read
-Open to a random page
-Share 2 "teaser" sentences from somewhere on that page
BE CAREFUL NOT TO INCLUDE SPOILERS!(
make sure that what you share doesn't give too much away! You don't want to ruin the book for others!)
-Share the title & author, too, so that other Teaser Tuesday participants can add the book to their TBR Lists if they like your teasers!
This week's Teaser Tuesday comes from
Beautiful Darkness (Caster Chronicles 2) by Kami Garcia and Margaret Stohl.
Originally, I wanted to share a quote/scene between Ethan and Lena. The thing is, their scenes either give away too much from Beautiful Creatures or borderline spoilery regarding Beautiful Darkness. Never fear, I found a different one I'm sure you'll love. This is a conversation Ethan has with his father. Again, it's longer than 2 sentences, but so worth it. Enjoy!
"'I'm here now. Do you want to talk about it?'
'About what?'
'Things you need to know when you have a girlfriend.'
There was nothing I wanted to talk about less. 'Dad, we don't have to-'
'I have a lot of experience, you know. Your mother taught me a thing or two about women over the years.'
I started planning an escape route.
'If you ever want to talk about, you know...'
I could hurl myself through the study window and squeeze between the hedge and the house.
'Feelings.'
I almost laughed in his face."-
Page 47.