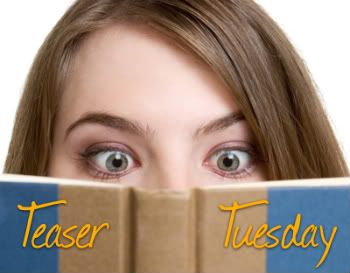 Teaser Tuesday is weekly meme hosted by Mizb at
Should Be Reading.
The rules are simple:
-Grab your current read
-Open to a random page
-Share 2 "teaser" sentences from somewhere on that page
BE CAREFUL NOT TO INCLUDE SPOILERS!(
make sure that what you share doesn't give too much away! You don't want to ruin the book for others!)
-Share the title & author, too, so that other Teaser Tuesday participants can add the book to their TBR Lists if they like your teasers!
Originally, I wanted to share a quote from The Eternal Ones. Unfortunatey, my brain did not function and instead of copying the quote I wanted before I sent it off, I completely forgot.
That's okay. Instead, I'll give you a teaser from one of Sarah Dessen's short stories called
Infinity
. I originially found it in an anthology called
Sixteen: Stories About That Sweet and Bitter Birthday by Megan McCafferty
. I think Sarah has a book out now with this short story as well as excerpts from some of her other books. I'd recommend getting the anthology instead. It has short stories from other great writers such as David Levithan, Carolyn Mackler and Sarah Mlynowski. Anywho, onto the teaser:
"There was music then, too, but it was softer, soothing, as was his voice, in my ear, or against my neck.

'I love you. I love you,' he'd whisper, and I'd feel that same hot flush, traveling up from my feet, the adrenaline rush that was a mix of fear and longing."