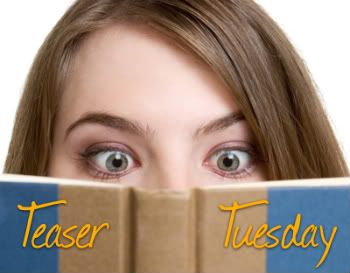 Teaser Tuesday is weekly meme hosted by Mizb at
Should Be Reading.
The rules are simple:
-Grab your current read
-Open to a random page
-Share 2 "teaser" sentences from somewhere on that page
BE CAREFUL NOT TO INCLUDE SPOILERS!(
make sure that what you share doesn't give too much away! You don't want to ruin the book for others!)
-Share the title & author, too, so that other Teaser Tuesday participants can add the book to their TBR Lists if they like your teasers!
This week's Teaser Tuesday is from
Return To Paradise by Simone Elkeles
. If you're a huge fan of Simone Elkeles like I am, you'll know this is the sequel to Leaving Paradise (which is FABULOUS!).
There are 2 quotes I'm going to share with you. Why? Because I couldn't pick one and stink at following the rules. I like to think of this as a win-win situation. No worries, neither are spoilery. Even if you haven't read Leaving Paradise, it's not going to ruin it.
Leaving Paradise and Return To Paradise alternate POVs between Maggie and Caleb. Both of these quotes are from Maggie's POV. Here we go:
Maggie Part 1
"This is unreal. I can't feel my toes because I'm in shock, and Caleb and this guy are going to get into a fight over...farting?"-
Page 12
Maggie Part 2
"'Then prove it.'
I narrow my eyes at him and wonder what he's up to. 'How?'
'Kiss me, Maggie. Right here, right now.'"-
Page 36-37