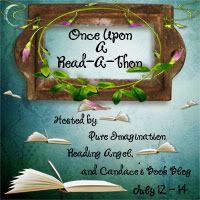 I decided to participate in the read-a-thon hosted by Lori at Pure Imagination, Reading Angel, and Candace's Book Blog.

Here's what I plan on reading:




*Desert Tales (Wicked Lovely): The Challenge (manga) by Melissa Marr
*Fireworks (Four Summer Stories) by Niki Burnham, Erin Haft, Sarah Mlynowski, and Lauren Myracle
*Grace (arc) by Elizabeth Scott
*Her And Me And You (arc) by Lauren Strasnick
*The Ghost And The Goth (arc) by Stacey Kade
*Dead Beautiful (arc) by Yvonne Woon
The read-a-thon is only 3 days (Monday-Wednesday), so I've got some serious reading to do. It's a pretty difficult goal considering my work schedule, but I think I can pull through. Look for updates and wish me luck.
If you're participating in the read-a-thon, comment below and show me your list.

Monday update: I finished Her And Me And You, and I'm almost done with Grace. Yay!
Tuesday update: Finished Grace and The Challenge. Must finish The Ghost And The Goth today. MUST! lol. No Twitter. Well, maybe a little bit of Twitter. :P
Wednesday update: It is currently 4:30PM. I'm about to leave work, finished the summer antho and now I'm on the last book. 400 pages of Dead Beautiful by the end of the day? We shall see!