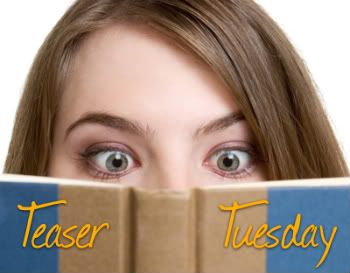 Teaser Tuesday is weekly meme hosted by Mizb at
Should Be Reading.
The rules are simple:
-Grab your current read
-Open to a random page
-Share 2 "teaser" sentences from somewhere on that page
BE CAREFUL NOT TO INCLUDE SPOILERS!(
make sure that what you share doesn't give too much away! You don't want to ruin the book for others!)
-Share the title & author, too, so that other Teaser Tuesday participants can add the book to their TBR Lists if they like your teasers!
This week's Teaser Tuesday comes from Clockwork Angel by Cassandra Clare. I've been a bit under the weather lately (who catches a cold/the flu during the summer?), so I haven't read as much as I'd like. Never fear, I'll get better soon and finish this in no time.
This scene is when Tessa firsts meets Will. Let me tell you, if you're a Jace fan, you'll LOVE Will! He is scrum-dilly-umcious! Here we go:
" 'I've mastered many things in my life. Navigating the streets of London, speaking French without an accent, dancing the quadrille, the Japanese art of flower arranging, lying at charades, concealing a highly intoxicated state, delighting young women with my charms...'

Tessa stared.

'Alas,' he went on, 'no one has ever actually refered to me as 'the master' or 'the magister' either. More's the pity...'"-
Page 36.