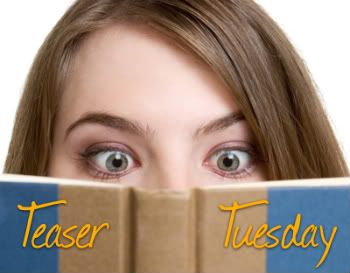 Teaser Tuesday is weekly meme hosted by Mizb at
Should Be Reading.
The rules are simple:
-Grab your current read
-Open to a random page
-Share 2 "teaser" sentences from somewhere on that page
BE CAREFUL NOT TO INCLUDE SPOILERS!(
make sure that what you share doesn't give too much away! You don't want to ruin the book for others!)
-Share the title & author, too, so that other Teaser Tuesday participants can add the book to their TBR Lists if they like your teasers!
This week's Teaser Tuesday is from
Grace by Elizabeth Scott
. If you haven't heard, Grace is a dystopian novel about a girl who was raised to be an "Angel." An Angel is a girl who's life matters only because she will be a human bomb and take someone else's life as well as her own.
The scene I chose helps describe what these girls believe and must go through. Hope you enjoy it.
"Lily's toe was swept away because it didn't matter. She learned to walk well enough without it. She would be able to do what she was made for.

She would still be able to die. "-
Page 30
Grace releases September 16th, 2010. For more information, click
here.