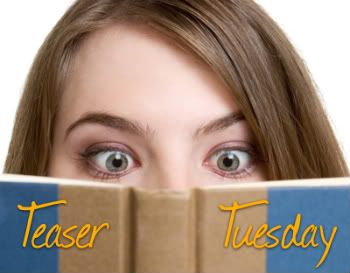 Teaser Tuesday is weekly meme hosted by Mizb at
Should Be Reading.
The rules are simple:
-Grab your current read
-Open to a random page
-Share 2 "teaser" sentences from somewhere on that page
BE CAREFUL NOT TO INCLUDE SPOILERS!(
make sure that what you share doesn't give too much away! You don't want to ruin the book for others!)
-Share the title & author, too, so that other Teaser Tuesday participants can add the book to their TBR Lists if they like your teasers!
This week's Teaser Tuesday comes from Halo by Alexandra Adornetto. Halo is the first book in this trilogy about 3 angels sent to earth to stop Dark Forces. It's told through Bethany (the youngest)'s POV.
The section I picked is after Bethany runs into the mysterious Xavier at school for the first time.

"I made myself promise that in the days that followed I wouldn't think about Xavier Woods at all. If I chanced to see him, I would ignore him. If he tried to speak to me, I would give token answers and move away. In short, I wouldn't allow him to have any effect on me.

Needless to say, I was to fail spectacularly."
- Page 45