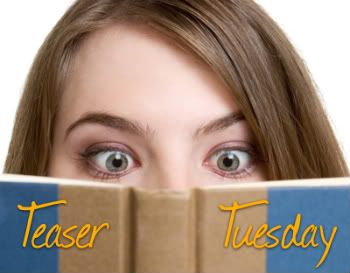 Teaser Tuesday is weekly meme hosted by Mizb at
Should Be Reading.
The rules are simple:
-Grab your current read
-Open to a random page
-Share 2 "teaser" sentences from somewhere on that page
BE CAREFUL NOT TO INCLUDE SPOILERS!(
make sure that what you share doesn't give too much away! You don't want to ruin the book for others!)
-Share the title & author, too, so that other Teaser Tuesday participants can add the book to their TBR Lists if they like your teasers!
This week's Teaser Tuesday comes from
Infinite Days by Rebecca Maizel
. This is actually her debut novel, and let me tell you. I finished it last night. It's brilliant! As always, this is a bit longer than 2 sentences, but worth it.
"I brought my face closer to his without even thinking of consequences. He swallowed the petals and I watched his Adam's apple rise and fall. Soon his hands were on my hips and my face was tilted toward his.

'What does that one mean?' he whispered. Our mouths were millimeters apart.

'Happiness. Right where you are.'"-Page 155
Infinite Days releases August 3rd. I highly recommend checking it out! And expect a review very soon.