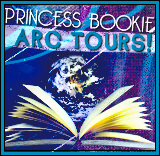 Your Name:
Cindy aka Princess Bookie
Name of your blog :
Princess Bookie
Started when?
Over a year ago
Number of followers?
1298
What do you review?
Young Adult mostly-some Adult Paranormal/Romance
How did you get the name for your blog?
When I was a kid, I liked the Pretty Pretty Princess Game, you remember the one with the jewelry and the beautiful crown and I love to read= Princess Bookie
How would you describe your blog?
I read a lot of books so its mostly book reviews, with contests thrown in and a few meme's.
What kind of blogger are you?
Very organized or fly by the seat of your pants? Usually I'm very organized. Since I read a lot I'm able to schedule posts way ahead of time but every once in a while I get so busy with the tour site and just living life, things can get hectic and I fall a little behind.
What is your favorite review or post for your own blog?
I think my favorite would be
Forget You by Jennifer Echols
. I just loved that book so much.
Your favorite blog?
Just one? Hmmm. Honestly, I read so many I don't have a favorite. Each blog represents something different and unique. Everyone has their own style and I can't pick a favorite, sorry.
What are you reading right
now?
Currently I am reading Rules Of Attraction by Simone Elkeles. I just finished Perfect Chemistry, loved it!
Do you have a picture of your TBR pile or bookshelf?

(if you stalk my blog the next few days, you can grab newest picture of my CSN bookshelf)
**Special thanks to Cindy for dropping by. She is one of my favorite bloggers. Not only does she post amazing reviews and contests, she also hosts the Around the World Arc Tour site. WE LOVE YOU, CINDY!!!**