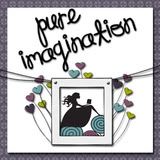 Your Name:
Lori
Stats:
I'm 23 and I have been married for 3 years!
Name of your blog:
Pure Imagination

Started when?
December 16, 2008
Number of followers
? 1,256
What do you review?

Mostly Young Adult. I throw some adult urban fantasy and paranormal romance in every once in a while.
How did you get the name for your blog?

When I first started my blog I named it 'What Lori is Reading' but when I decided to start putting a little more effort into it I searched bookstore names, and found Pure Imagination. It was perfect! I've always loved Willy Wonka!
How would you describe your blog?
Fun. I don't try to take things too seriously. Reading and blogging are supposed to be fun. I hope that comes across in my posts!
What kind of blogger are you? Very organized or fly by the seat of your pants?
I'm totally OCD! I have almost all of my posts scheduled 3 weeks in advance lol. I make lists like crazy! I spend more time working on my blog than I do at my actual job!
What is your favorite review or post for your own blog?
This is a hard one! I really loved all the Twilight Takeover stuff in June. One of my last posts during the Takeover was A Message to Stephenie Meyer. It felt great to get that out there. I also did a post in March that caused a little drama. I had just read Eating Animals by Johnathon Safran Foer and it changed my life, so I wanted to let other people know about the deplorable conditions in factory farming. So I wrote my Important Please Read post!
Your favorite blog?
Oh no! I have some many favorites, I could never name just one! I keep discovering new favorites everyday!
What are you reading right now?
Right now I'm reading The Faerie Ring by Kiki Hamilton. I'm almost finished with it then I'm going to start Clockwork Angel!!
Do you have a picture of your TBR pile or bookshelf?
I have books spread out all over my house!
Bookshelf:
(I SEE A CRESCENDO ARC!!!)
Books in Drawers:
And the TBR Pile:
(Hey, look. On the right...it's Clockwork Angel!)
Special thanks to Lori for participating in the Better Know A Blogger. Be sure to check out Lori's blog. She has some fabulous reviews and even more fabulous giveaways! And be sure to follow her on twitter: @Loriimagination
WE LOVE YOU, LORI!!! :D