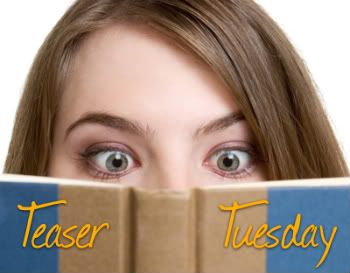 Teaser Tuesday is weekly meme hosted by Mizb at
Should Be Reading.
The rules are simple:
-Grab your current read
-Open to a random page
-Share 2 "teaser" sentences from somewhere on that page
BE CAREFUL NOT TO INCLUDE SPOILERS!(
make sure that what you share doesn't give too much away! You don't want to ruin the book for others!)
-Share the title & author, too, so that other Teaser Tuesday participants can add the book to their TBR Lists if they like your teasers!
This week's Teaser Tuesday comes from
Matched by Ally Condie
. If you haven't heard, Matched is a dsytopia novel about a Society who chooses everything for you (your job, your mate, etc) based on statistics. The story is told through Cassia's point of view. She's in a bit of a predicament because while the Society has chosen her best friend, Xander, to be the one she will marry, she can't help but feel drawn to Ky.
The scene below is when Cassia goes to a showing (movie) with her friends and ends up sitting next to Xander and Ky. Check it out, and let me know what you think!
"The thought comes into my mind like a sideways glance, like a flash of blue next to me. Ky. Is he watching me? Waiting for me to meet his gaze?

I wait one moment too long before I turn back. When I do, Ky is not looking at me anymore. If he ever was."
- Page 91
Matched releases November 30th, 2010. For more info on Matched, check out the goodreads page
here.