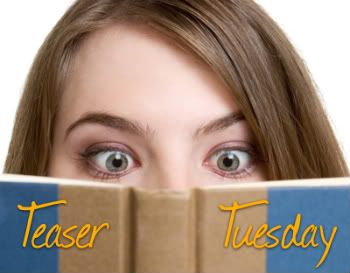 Teaser Tuesday is weekly meme hosted by Mizb at
Should Be Reading.
The rules are simple:
-Grab your current read
-Open to a random page
-Share 2 "teaser" sentences from somewhere on that page
BE CAREFUL NOT TO INCLUDE SPOILERS!(
make sure that what you share doesn't give too much away! You don't want to ruin the book for others!)
-Share the title & author, too, so that other Teaser Tuesday participants can add the book to their TBR Lists if they like your teasers!
This week's Teaser Tuesday comes from
Paranormalcy by Kiersten White
.
A little bit of background. In this scene, Evie talks with a boy who can shift to any human form. He broke into the Center, was caught and is now imitating Evie, but can't quite get the color of her eyes. Evie does not know his name and since he's imitating her, she refers to him as "Not-Me."
Now, you know me. I can't quite seem to just pick 2 sentences and stop. No worries, it's not spoilery and so worth it. Also, know that since this is coming from an arc, the scene is subject to change in the final print.
Anyway, without any further ado, I give you the Teaser:
" 'What color?' Not-Me mused. His eyes were flickering now, shifting colors like he was on fast-forward. 'A cloud with the slightest hint of rain.'

'Streams of melting snow,' I answered without thinking.

He shot straight up and backed into the corner of his cell. I watched an expression of fear and mistrust spread across my features. 'Yes, that's it,' Not-Me whispered."
-Page 24.