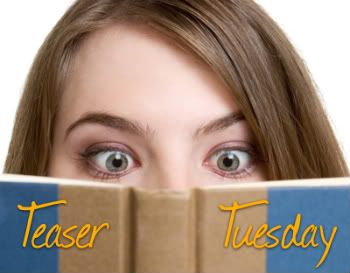 Teaser Tuesday is weekly meme hosted by Mizb at
Should Be Reading.
The rules are simple:
-Grab your current read
-Open to a random page
-Share 2 "teaser" sentences from somewhere on that page
BE CAREFUL NOT TO INCLUDE SPOILERS!(
make sure that what you share doesn't give too much away! You don't want to ruin the book for others!)
-Share the title & author, too, so that other Teaser Tuesday participants can add the book to their TBR Lists if they like your teasers!
This week's Teaser Tuesday comes from
Personal Demons by Lisa Desrochers
. Personal Demons is told through 2 points of view : Frannie's and Luc's. Personally, Luc's is my favorite because he's a demon, and who doesn't want to see the interworkings of a demon?
This scene is one of many amazing Luc and Frannie moments, told through (of course) Luc's point of view. Ch-ch-check it out!
"'I'm sorry, I wasn't aware we were on a 'hot date.'' And this time I can't contain the chuckle when she cringes. 'So, how hot would you like it? I'm capable of all levels of hotness, from Luc-warm to-and I'm being literal here- hotter than Hell.'"-
Page 50.