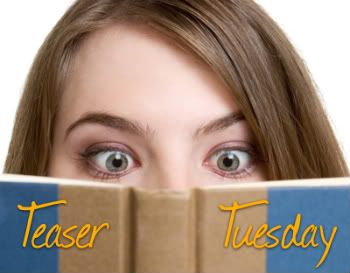 Teaser Tuesday is weekly meme hosted by Mizb at
Should Be Reading.
The rules are simple:
-Grab your current read
-Open to a random page
-Share 2 "teaser" sentences from somewhere on that page
BE CAREFUL NOT TO INCLUDE SPOILERS!(
make sure that what you share doesn't give too much away! You don't want to ruin the book for others!)
-Share the title & author, too, so that other Teaser Tuesday participants can add the book to their TBR Lists if they like your teasers!
This week's Teaser Tuesday comes from
Spells by Aprilynne Pike
. Spells is the sequel to Wings. I tried to find the best quote that wouldn't spoil Wings or Spells. Then I thought, "Hmm, most series have a love triangle anyway. Why not use one of those quotes?" This love triangle is a little different. It's between Laurel (a faerie) who is caught between David, her human boyfriend, and Tamani, a faerie she can't resist.
In this scene, Laurel is speaking with Tamani alone. It's actually one of my favorite scenes. I think someone else posted this right when Spells was released, but I don't care. I adore this scene and hope you love it as much as I do. Ch-ch-check it out!
"'I can't just storm in and proclaim my intentions. I can't 'steal' you away. I just have to wait and hope that, someday, you'll ask.'

'And if I don't?' Laurel said, her voice barely above a whisper.

'Then I guess I'll be waiting forever.'"
Page 97