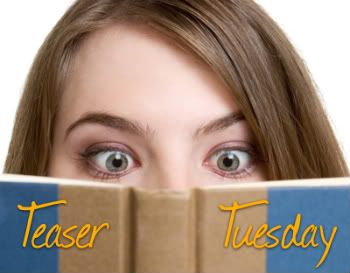 Teaser Tuesday is weekly meme hosted by Mizb at
Should Be Reading.
The rules are simple:
-Grab your current read
-Open to a random page
-Share 2 "teaser" sentences from somewhere on that page
BE CAREFUL NOT TO INCLUDE SPOILERS!(
make sure that what you share doesn't give too much away! You don't want to ruin the book for others!)
-Share the title & author, too, so that other Teaser Tuesday participants can add the book to their TBR Lists if they like your teasers!
This week's Teaser Tuesday comes from...
Dash & Lily's Book of Dares by Rachel Cohn and David Levithan
. The book alternates between Dash and Lily's point-of-views. In this scene, Dash is caught by a friend, who happens to be a girl, in the middle of performing one of Lily's many dares. Now, I know the name of the game is to leave you with just 2 sentences, but to get the REAL effect on how hilarious and amazing this book is, I must leave you with a bit more.
-Dash-
"She looked at the books I was holding- a red Moleskine, French Pianism, Fat Hoochie Prom Queen, and, open to a rather graphic drawing of two men doing something I had heretofore not known possible, The Joy of Gay Sex (3rd edition).

Apprising the situation, I figured some explanation was in order.

'It's for a paper I'm doing,' I said, my voice ripe with fake intellectual assurance. 'On French pianism and its effects. You'd be amazed at how far-reaching French pianism is.'

Priya, bless her, looked like she regretted ever saying my name."-Page 10
Dash & Lily's Book of Dares releases October 26, 2010. Keep in mind, the copy I'm reading is an arc, so the final copy may differ.
Now, who has a teaser for me? Leave it in the comments, and I'll go check it out!