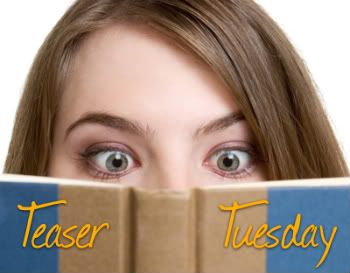 Teaser Tuesday is weekly meme hosted by Mizb at
Should Be Reading.
The rules are simple:
-Grab your current read
-Open to a random page
-Share 2 "teaser" sentences from somewhere on that page
BE CAREFUL NOT TO INCLUDE SPOILERS!(
make sure that what you share doesn't give too much away! You don't want to ruin the book for others!)
-Share the title & author, too, so that other Teaser Tuesday participants can add the book to their TBR Lists if they like your teasers!
This week's Teaser comes from
Fixing Delilah by Sarah Ockler
. Please keep in mind I'm reading an arc, so the dialogue might change in the final copy.
"Rachel closed her eyes and beaths in the air over the candles. 'Del, our mother said a lot of hurtful things at Dad's funeral. Things that can't be unsaid or undone. And now that she's gone, we'll never resolve any of it. It's like everything from that time in our lives is just...I don't know. Frozen, right where we left it.'"
- Page 104
Fixing Delilah
releases December 15, 2010. Be sure to check it out!