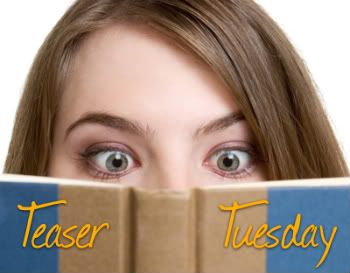 Teaser Tuesday is weekly meme hosted by Mizb at
Should Be Reading.
The rules are simple:
-Grab your current read
-Open to a random page
-Share 2 "teaser" sentences from somewhere on that page
BE CAREFUL NOT TO INCLUDE SPOILERS!(
make sure that what you share doesn't give too much away! You don't want to ruin the book for others!)
-Share the title & author, too, so that other Teaser Tuesday participants can add the book to their TBR Lists if they like your teasers!
This week's Teaser Tuesday comes from The Lipstick Laws by Amy Holder. Here we go:
"'Hi.' Okay, so it isn't Shakespeare or anything, but give me a break-I made the first move.
'Hey,' he says, showing his delicious smile.
I almost faint...but I don't. I want to sit in his lap, run my fingers through his thick, scruffy brown hair, and lick his face from top to bottom. Say something else, April...open dialogue! I can't. Words escape me."- Page 22
To find out more about The Lipstick Law's, visit
Amy Holder's newly revamped website
. The Lipstick Laws releases April 4, 2011.