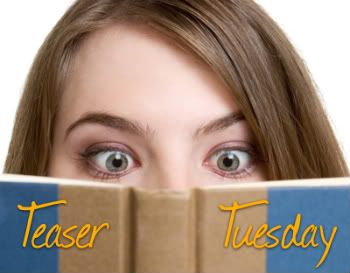 Teaser Tuesday is weekly meme hosted by Mizb at
Should Be Reading.
The rules are simple:
-Grab your current read
-Open to a random page
-Share 2 "teaser" sentences from somewhere on that page
BE CAREFUL NOT TO INCLUDE SPOILERS!(
make sure that what you share doesn't give too much away! You don't want to ruin the book for others!)
-Share the title & author, too, so that other Teaser Tuesday participants can add the book to their TBR Lists if they like your teasers!
This week's Teaser Tuesday comes from The Lying Game by Sara Shepard. If you're a Pretty Little Liars fan, I highly recommend checking out Sara's first book in her new series. The language is a bit PG-13, so I hope you're not easily offended. Here we go:
"She never felt a gun at her back before, but this couldn't be anything else.
'Don't move, bitch,' whispered a husky voice. Emma felt hot breath on her neck, but all she could see was the inside of someone's palm. 'You're coming with us.'"- Page 40.
The Lying Game
releases December 7th, 2010.