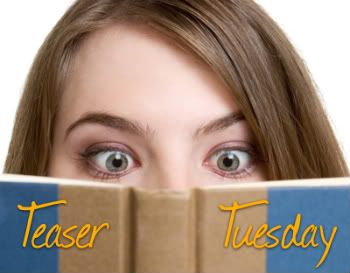 Teaser Tuesday is weekly meme hosted by Mizb at
Should Be Reading.
The rules are simple:
-Grab your current read
-Open to a random page
-Share 2 "teaser" sentences from somewhere on that page
BE CAREFUL NOT TO INCLUDE SPOILERS!(
make sure that what you share doesn't give too much away! You don't want to ruin the book for others!)
-Share the title & author, too, so that other Teaser Tuesday participants can add the book to their TBR Lists if they like your teasers!
This week's Teaser Tuesday comes from The Lost Saint (The Dark Divine #2) by Bree Despain. This book is fantastic. If you haven't read The Dark Divine, I don't recommend reading this teaser. This is actually from the prologue. Here we go:
"
The boy screamed- but not because of the searing pain he felt as the fragments of the ring sliced into his flesh, and his tendons ripped away from the splintering bones in his fingers. He screamed because he knew that for what he'd done, everyone he'd ever loved, everything he left behind, was going to die
."- Page 2