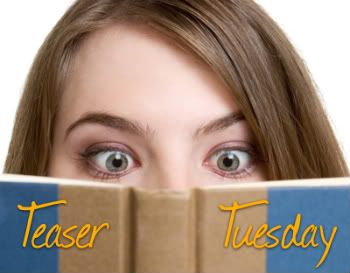 Teaser Tuesday is weekly meme hosted by Mizb at
Should Be Reading.
The rules are simple:
-Grab your current read
-Open to a random page
-Share 2 "teaser" sentences from somewhere on that page
BE CAREFUL NOT TO INCLUDE SPOILERS!(
make sure that what you share doesn't give too much away! You don't want to ruin the book for others!)
-Share the title & author, too, so that other Teaser Tuesday participants can add the book to their TBR Lists if they like your teasers!
This week's Teaser Tuesday comes from
Vixen by Jillian Larkin
. It's the first book in Jillian's Flappers series. This book takes place in the roaring 1920s and is told from three separate points of view. The following comes from my personal favorite, Clara:
"She gasped and whipped around, expecting to find a nosy servant. Instead, she saw one of the sexiest boys she'd ever laid eyes on in her entire life. She gasped again."-
Page 67
Hope you enjoyed it. This teaser is from an arc I received, but you can check out Vixen when it hits shelves December 14!