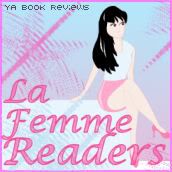 Better Know A Blogger is where we interview
bloggers
around the
blogosphere
we think you should check out. This portion of Better Know A Blogger is brought to you by
Eleni from La Femme Readers
. Please welcome her to Addicted 2 Novels!
1. What is your name/blogger name?
My name is Eleni, nice to meet ya!
2. What is the name of your blog:
La Femme Readers /
http://lafemmereaders.blogspot.com/
3. Do you have an auto-buy author, someone whose writing is so good, you have to read everything they write?
Yes! So many actually, I'll just name a few though:
-Cassandra Clare (I worship that woman's writing to death)
-Simone
Elkeles
(One of the sweetest, best selling authors who continually steps the bar for bad boy characters)
-Lauren Oliver (Ever since I finished the masterpiece, Before I Fall, I will now read anything by her!),
4. Who is your all-time favorite couple in literature? (And/Or favorite male character)
Hm, good question! I'd have to say
Jace
and Clary from The Mortal Instruments series by Cassandra Clare. The undeniable chemistry between the two was
electrifyingly
delicious.
5. Do you have an e-reader? Do you prefer e-books or regular books, or use both?
Yes, I have a Kindle. I do prefer hard copies, but due to my lack of space I have to sometimes rely on e-books.
6. What are your Top 5 picks for the best books of 2010?
Here we go in no particular order...
1) Nevermore by Kelly
Creagh
(LOVED it - and
hottie
alert with
Varen
!)
2) Before I Fall by Lauren Oliver (Hauntingly beautiful)
3) Hex Hall (Book #1) by Rachel Hawkins (So fun!)
4) Amy & Roger's Epic Detour by Morgan
Matson
(This road trip was perfect)
5) The Clockwork Angel (The Infernal Devices, Book 1) by Cassandra Clare (Amazing start to yet another series by Cassandra)
7. What book or series has been sitting in your

TBR

the longest?
Oh boy, my
TBR
is so large I don't even know anymore. I know I've had the Vampire Academy series by
Richelle
Mead in that pile for a while. Did I hear some gasps? I will get to it soon, just have other review books that I need to read first. :)
Ya know what?! I have yet to read Blood Promise and Last Sacrifice, so I can totally relate. Thank you so much ,Eleni, for taking the time out to answer a few questions. Everyone, be sure to check out Eleni's blog where she hosts giveaways, contests, and writes amazing reviews!