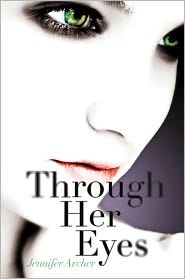 As usual, Inkpop is hosting another amazing Weekly Writing Challenge. This one's theme is based around the upcoming novel,
Through Her Eyes
by Jennifer Archer.
Here's the theme:
Through Her Eyes
is about a girl named Tansy, who moves to a small town in Texas, only to find out that the previous tenant (Henry) died there 60 years earlier. Through photography and poetry, she finds herself mysteriously linked to Henry.
Photography captures a moment in time, and now it's your chance to step out of the present and back into the past. Write a poem, short story or essay about a photograph you would like to step into in order to enter that moment of time.
As always, there will be FOUR winners. Not a writer? That's okay. Two winners will be selected based on their writing entry and the other two will be based commenters! The winners will win a copy of Through Her Eyes, as well as THREE other HarperTeen books of your choice from the HarperTeen catalog.
For more details and where to enter, please click
HERE
, and follow the link to the Inkpop website. This challenge ends March 31st, so you better get cracking!
Special thanks to Inkpop for hosting another awesome writing challenge. Good luck everyone, and may the odds be ever in your favor.