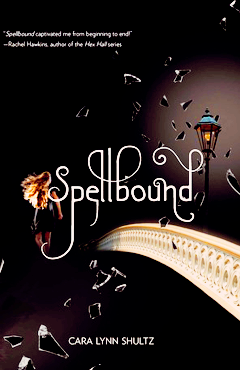 Title:
Spellbound
Author:
Cara Lynn Shultz
Published:
June 28th 2011 by Harlequin Teen
Summary: "What's a girl to do when meeting The One means she's cursed to die a horrible death?

Life hasn't been easy on sixteen-year-old Emma Connor, so a new start in New York may be just the change she needs. But the posh Upper East Side prep school she has to attend? Not so much. Friendly faces are few and far between, except for one that she's irresistibly drawn to—Brendan Salinger, the guy with the rock-star good looks and the richest kid in school, who might just be her very own white knight.

But even when Brendan inexplicably turns cold, Emma can't stop staring. Ever since she laid eyes on him, strange things have been happening. Streetlamps go out wherever she walks, and Emma's been having the oddest dreams: visions of herself in past lives—visions that warn her to stay away from Brendan. Or else."
Thoughts:
I'll be honest. Due to mixed reviews, I've put off reading
Spellbound
. It seemed like one of those hit or miss books, especially since the bloggers I follow and love either loved or hated it. Well, I'm so glad I finally picked it up and gave it a go because I fell head over heels in love with it. My only complaint is having to wait next year for the sequel!
Spellbound
is about an age old cursed, where two lovers are doomed to fall in love over and over again, just to have it all end suddenly and tragically. The story starts off with Emma Conners, New York's latest teen to hit the scene and newest victim of Vincent Academy's gossip mill. Emma's life has been one catastrophe after the next. From the beginning, you know how hard life has been for Emma and only wish her good things to come. I have to tell you how much I enjoyed reading about Emma's life prior to Vincent Academy. Now, because this *IS* a book based around a curse, you know her path will be rocky. You just don't know how rocky it'll be.
On her first day at Vincent A., Emma meets Brendan, the local band boy aka hottest guy in school, aka the one Emma will clearly fall in love with. From the moment Brendan turns around to defend Emma, they're both instantly drawn to each other. Normally, I'm not a fan of insta-love, but in this case, I absolutely loved it. The connection and romance is very similar to that of Luce and Daniel from
Fallen
by Lauren Kate. The only difference is you don't have to wait 300 pages for them to finally admit their feelings to one another. Oh, and when Emma and Brendan finally make that move, it is STEAMY! Wowza!
And the history behind the curse! I love it when the who, what, where, whens and whys are shared subtly, yet perfectly. I loved hearing about Lord Archer's tale and everything leading up to this. THANK YOU, CARA LYNN SHULTZ, FOR ANSWERING ALL OF MY QUESTIONS! As an avid reader, I know how rare this is, and by the end of the book, I found myself satisfied, excited and a little giddy.
Now, I will say the plot line is a little predictable. I saw the outcome coming from a mile away. Still, to me, this didn't take away from the story. There's just so much going on, and I enjoyed every minute of it. I would have liked to see more witchcraft, though. This element felt more like something that was discussed and brushed to the side, which also made the book feel like more like a contemporary novel. What little magic that was in the book felt more like coincidence rather witchcraft. I mean, the book is called
Spellbound
after all. I'm assuming Shultz is saving the magic for the sequel,
Spellcaster
, coming out next year.
Overall, the best way I can find to describe
Spellbound
is that it's part
Gossip Girl
, part
Fallen
. It's an easy read and quite addicting. If you're a fan of either series, I'm sure you'll fall in love with
Spellbound
the same way I did. It's not flawless, but it's definitely what I needed!
Special thanks to Netgalley, HarlequinTeen, and work (for being so slow, I read this on my computer in 2 days!).
Rating: