Better Know A Blogger
is a feature hosted by Karen from
For What It's Worth
, Tiger from
All-Consuming Media
, and myself. Basically, we feature bloggers we think you should know. Everyone, please welcome Ning from Reading by Kindle Fire. Take it from here, Ning!
Name:
Ning
Blog:
Reading by Kindle Fire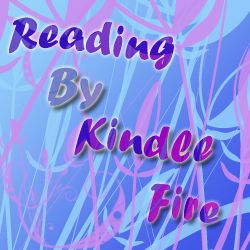 Blogging since:
Well, I started to blog in 2010, but then I didn't kept up with it. Last November, I don't know what got to me, but I though, hmm, maybe I should start blogging again, so that's how I got started. It's been about 3 months now. I'm totally enjoying it. It was so amazing when I found out about the huge book blogging community. I'm very happy to become part of it.
How did you get the name for your blog?
So the answer is kind of embarrassing. The blog name was suppose to be quite different. When I first started picking names, a lot of what I thought were already taken. At the time, I had an obsession with scented candles, so I came up with something like "Reading by candle light" except it would be "kindle" instead of "candle" since I have a Kindle and read on it most of the time. When I actually changed the blog name though, I don't know what happened, but I said "Reading by Kindle Fire" instead of "Kindle Light". It actually has nothing to do with Kindle Fire. Actually, the Kindle Fire have barely begun when I started the blog. Now I'm too lazy to change it. And I actually like the name.
How have your reading habits changed since you started blogging?
Well, I read a lot more now and more often. Used to, I'd get really into reading for a bit and then stop for a week or two. Now I can't do that. It's fine though. I have so many books now on my TBR list that I really can't afford to stop. I do try to read books I want rather than books I have to review more often than not though since it'll make it easier on me to not take a break from reading.
How do you choose which book to read next?
I keep a calendar with my blog tour dates and stuff on it, so I know when I'm off schedule. I try to finish the blog tour books before their dates. Then, I go through my TBR pile and choose based on my mood. However, sometimes I enter challenges in my Goodreads groups with TBR books, so then I'll read those first as well. That's not a problem usually because it's not mandatory, and those books are already books I really want to read anyway.
Who is your favorite literary couple?
Wow, that's hard. Does that have to be a classic couple? Cuz I don't have one. I couldn't bring myself to finish Pride and Prejudice (please don't kill me anyone). Gosh, with the amount of romance I read, you'd think I can come up with one easily, but I just have too many.
I think I'll pick Malcom Slaine and Carrow Graie from Demon From the Dark by Kresley Cole. I absolutely loved these two and had so much fun reading that book.
What book are you looking forward to the most this year?
My most looked forward to book, Lothaire, came out early January. Others will have to be Lover Reborn by JR Ward and Dark Seduction by Gena Showalter. I'm also really looking forward to Partials by Dan Wells.
Ning, thank you so much for visiting today! I'm looking forward to Partials as well. Be sure to check out Ning's blog and leave her some love!
XOXO