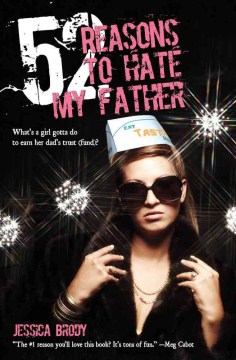 If my fangirling review of
52 REASONS TO HATE MY FATHER
hasn't convinced you to read this fabulous book, maybe the book trailer will...
Don't you wish it was a movie? It has a very Mean Girls feel to it. Oh, and Jessica? If you're out there reading this, I need the guy playing Luke in the trailer to give me a call. Just saying!
ANYWAY, Jessica Brody is also hosting a fabulous giveaway where you can win a
COMPLETE HEIRESS MAKE-OVER
. This includes a personal wardrobe styling session with a professional costume designer (the same one who dressed Lexington in the book trailer!). If that wasn't enough, you'll also win a gift card to Sephora, a free copy of the book, and lots of other cool goodies fit for an heiress. Holy crap.
You can find out more about the giveaway over at
Jessica's website
.
Watch the trailer, read the book, and spread the word. That's what a true heiress would do.