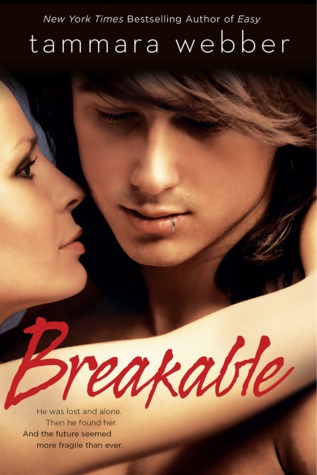 Title:
Breakable (Contours of the Heart #2)
Author:
Tammara Webber
Published:
May 6th 2014 by Penguin Berkley
Source:
Finished copy courtesy of the publisher for an honest review
Amazon/Goodreads
"He was lost and alone. Then he found her.
And the future seemed more fragile than ever.

As a child, Landon Lucas Maxfield believed his life was perfect and looked forward to a future filled with promise — until tragedy tore his family apart and made him doubt everything he ever believed.

All he wanted was to leave the past behind. When he met Jacqueline Wallace, his desire to be everything she needed came so easy…

As easy as it could be for a man who learned that the soul is breakable and that everything you hoped for could be ripped away in a heartbeat."
First line:
"I woke with a jerk, screaming."
Thoughts:
For those who know me well, EASY is quite possibly one of my favorite books of all time. Even though I have a finished copy on my bookshelf, I also have the ebook on my Kindle app. You know, just in case I need a quick fix. One of the reason I loved EASY so much is because of Lucas, a character so complicated, I could never quite figure him out. When I heard Tammara was writing a book told in Lucas' point of view, I screamed cheers of joy. Immediately, I could hear chants of "Lucas, Lucas, Lucas" in my head. Now, the bigger question is how was it? Did it live up to the all of its hype? Overall, yes. Yes it did.
Each chapter starts off with Landon's point of view and ends with Lucas'. The novel immediately begins with Landon waking up in the hospital after his mother's death. For those who have read EASY, you know how closed off Lucas is to this subject, but you're not sure why or really the circumstances. That comes much later in EASY, but in this case, it jumps right in. Landon struggles with the loss of his mother, the guilt, and the distance his father places between them. How is someone suppose to just move on with their life? Honestly, if it weren't for the Hellers, I wouldn't know how Landon made it as far as he did. Mrs. Heller was Landon's mom's best friend, and soon enough, the entire family accepts him as one of their own. Yet, as most people do, he still struggles with the pain and is ridden with guilt.
Lucas. What a funny guy. When he first sees Jacqueline (who he calls Jackie until they finally meet), he quickly becomes her Edward Cullen stalker. What do I mean by this? Well, he looked her up on the class seating chart and immediately went into Facebook mode. When he found that her page is set to private, he checked out Kennedy's. That's where he learns how long the two have been dating, looks at photos of her, the works. It would be flattering if it weren't so creepy, but hey. People do it all of the time, so it makes it normal, right? Right? Moving on...
I absolutely adored Lucas' dry sense of humor. He has this dark, brooding personality mixed in with a lightheartedness that he only shows towards Jacqueline. I loved that he was a no BS type of guy, yet hides his "Landon" persona when it came to getting closer with her. His struggle with telling her the truth was both entertaining and slightly adorable. He also has this prince charming side, though he's not the romantic "randomly buy you flowers" type of guy. Needless to say, I fell even more in love with him than before.
After a while, I started referring to Landon/Lucas as LanLuc. The alternating personas took me a second to get use to, but I eventually did and enjoyed it. Though I very much enjoyed Landon's story, I personally found Lucas' more entertaining. I love viewing the events from EASY from his point of view. There were certain things he did in EASY that I found to be a bit a-hole-ish, but after reading his thoughts, I now understand why.
All in all, BREAKABLE will most certainly satisfy fans of Tammara Webber. I think I enjoyed EASY more, but it doesn't mean I didn't devour BREAKABLE in two sittings (as work often gets in the way of reading time). I personally think Francis the cat is my favorite character in this book, but maybe it's because I really, really love cats. Needless to say, I cannot wait for the author's next novel. Will she continue writing about this world or will she move on to another one? Either way, I'll definitely need to get my hands on it ASAP!
Rating:

4 Stars
Favorite Quotes:
"Everyone isn't logical. Everything doesn't make sense in the end. Sometimes you have to forget about explanations or excuses and leave people and places behind, because otherwise they will drag you straight down."
"Luck could be earned and created. It could be discovered. It could be regained. After all - I'd found this girl. I'd found my future. I'd found forgiveness. My mother would have been happy for me..."
"I wanted to put on earphones and plug into her and know what she was hearing when her fingers performed."