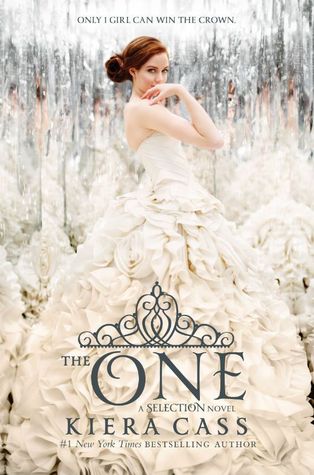 Title:
The One (The Selection #3)
Author:
Kiera Cass
Published:
May 6th 2014 by HarperTeen
Source:
Bought
Goodreads/Amazon
"The highly anticipated conclusion to Kiera Cass's #1 New York Times bestselling Selection series, The One will captivate readers who love dystopian YA fiction and fairy tales. The One is the perfect finale for fans who have followed America's whirlwind romance since it began--and a swoon-worthy read for teens who have devoured Veronica Roth's Divergent, Ally Condie's Matched, or Lauren Oliver's Delirium.

The Selection changed America Singer's life in ways she never could have imagined. Since she entered the competition to become the next princess of Illéa, America has struggled with her feelings for her first love, Aspen--and her growing attraction to Prince Maxon. Now she's made her choice . . . and she's prepared to fight for the future she wants.

Find out who America will choose in The One, the enchanting, beautifully romantic third book in the Selection series!"
First line:
"This time we were in the Great Room enduring anothr etiquette lesson when bricks came flying through the window."
Thoughts:
First of all, if you can help it, do not read the summary. While it doesn't contain spoilers for any of the three books, I feel as though it somewhat cheapens the novel. It makes the book sound so shallow, and THE ONE is anything but shallow. I have been going on and on about this book on Twitter, Instagram, and anyone who will listen to me. I'm probably the worst blogger in the world, because I have not been able to let this book go and move on. In fact, while I was suppose to be reading a book for review, I caught a glimpse of THE ONE still sitting on my nightstand, and indulged in a reread. Seriously, it truly is THAT amazing.
Going into THE ONE, I had many reservations. Here's a quick recap of my thoughts on the previous two novels:
After reading THE SELECTION, though I very much enjoyed it and found it addicting, I couldn't help but dislike our heroine (America). I found her to be so incredibly wishy-washy and arrogant. Does this girl ever think before acting? Alas, even though she wasn't my favorite, I couldn't help but cheer for her.
Now, going into THE ELITE was a whole different story. At one point, I pretty much hated every character. It just felt like neither America, Maxon, or Aspen were being honest or true to themselves. How many times can these people be so ridiculously indecisive? "I love YOU! Wait, I may love someone else. But this person loves me more. La la la...". And I swear, the outbursts from each and every one of them were just plain absurd. Funny thing is, I still kept reading. It still kept me hooked, and I still wanted to know anything and everything about this fascinating world.
Finally, let's talk about THE ONE. Okay, I think it's pretty obvious after reading THE ELITE who America chooses. Honestly, I'm not sure why it is still in question. Is she still kind of wishy-washy in this book? Of course, it's America! In this case, it's only because she isn't truly sure how Maxon feels about her. The tension is sometimes brutal, yet I couldn't get enough of it. I swear, the moments shared between the two (the good ones anyway) are just so irresistible. I swooned so much, I might as well have been floating.
Believe it or not, my favorite character in this particular novel was actually Celeste. It's entertaining and kind of heart breaking watch the final four "compete". Though there can only be one winner, they've found this sense on kinship, and I truly fell in love with each and every one of these girls. Well, maybe not Elise, but I kind of liked her a bit. Maybe.
I really don't want to give any spoilers away, so I'll end my review with this: I have reread this book twice already and am still having difficulty moving on. That's how good it is. I don't care that some parts were cheesy and things ended on a bit of a bittersweet note. None of that changes the fact that I am obsessed and completely in love with THE ONE. It ended the way it should, but also with a twist to keep you on your toes!
Rating:


5 Stars


Favorite Quotes:


"'Break my heart. Break it a thousand times if you like. It was only ever yours to break anyway.'"
"'I want everything with you, America. I want the holidays and the birthdays, the busy season and lazy weekends. I want peanut butter fingertips on my desk. I want inside jokes and fights and everything. I want a life with you.'"
"But even now I know this isn't a fairy tale. I know that we'll have hard times, confusing times. I know that things won't always happen the way we want them to and that we'll have to work to remember that we chose this. It won't be perfect, not all the time.

This isn't happily ever after.

It's so much more than that."