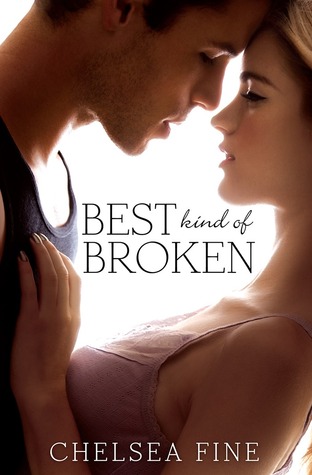 Title:
Best Kind of Broken (Finding Fate #1)
Author:
Chelsea Fine
Published:
March 4th 2014 by Forever
Genre:
New Adult
Source:
eGalley courtesy of Netgalley and the publisher (also bought!)
Amazon/Goodreads
"Pixie and Levi haven't spoken in nearly a year when they find themselves working―and living―at the same inn in the middle of nowhere. Once upon a time, they were childhood friends. But that was before everything went to hell. And now things are... awkward.

All they want to do is avoid each other, and their past, for as long as possible. But now that they're forced to share a bathroom, and therefore a shower, keeping their distance from one another becomes less difficult than keeping their hands off each other. Welcome to the hallway of awkward tension and sexual frustration, folks. Get comfy. It's going to be a long summer."
First line:
"If my bastard neighbor uses all the hot water again, I will suffocate him in his sleep."
Thoughts:
Ironically enough, my blogging bestie Karen from
For What It's Worth
recommended this book to me. The only reason I say ironically is, if you know her, you know how insanely picky she is when it comes to books. I'm the queen of 3-5 stars, and she's the ruler of 1-2 star reviews. Plus, the fact that she recommended a New Adult novel is pretty much unheard of. Alas, like most books recommended to me, I went into reading BEST KIND OF BROKEN with somewhat high expectations. Is it as cute as Karen claims it to be? You guys, it's even cuter.
This isn't a long book. I easily zoomed through the pages and devoured it in just a few sittings/treadmill reading runnings. BEST KIND OF BROKEN is told through both Sarah "Pixie" and Levi's point of views. From the very beginning, the angst and chemistry between the two is clear. The only question is why do they claim to hate each other when this clearly isn't the case? As the novel progresses, you get glimpses of the past- a complicated history with more than its fair share of tragedy. Of the two characters, I couldn't tell who I wanted to reach out to more. Pixie loses herself in her art but even then, it's not what it use to be. It's much darker. Levi, on the other hand, is simply lost. He use to be a star quarterback and go to parties, but now he just works as a handyman at the Willow Inn. The craziest thing is, both Pixie and Levi clearly need each other, but they simply can't get it together.
Unlike plenty of NA books out there, the relationship between these two starts slow and builds into something more. It's not this sexfest, and honestly there aren't really that many romantic scenes. The tension is there, but neither of these two characters just lose it and jump each other in some dark hallway. It grows into something more and once the two finally get to that physical euphoria, whoa. I couldn't help but swoon, giggle, and kind of do that thing where you pull the book closer to your face even though you can see it just fine. I like to think of it as my lust reading zone. You guys, it was really hot, and I'm so grateful the author didn't just leap into it. It made these steamy scenes all the more worthwhile.
Overall, I really enjoyed BEST KIND OF BROKEN. Heck, I liked it so much I ended up buying the ebook because hey, I sense a reread in my future. Without a doubt, I cannot wait to read PERFECT KIND OF TROUBLE and other books by Chelsea Fine.
Rating:

4 Stars
Favorite Quotes:
"'You can't sit next to me. You'll ruin my game.'

"'What game?' she says. 'You're a white guy wearing a gold chain. You have no game.'"
"I always thought losing my virginity would be a memorable event with fireworks and theme music and maybe a parade afterward. But no."
"'You are not my friend, Pixie. You are a piece of my heart and a part of who I want to be.'"