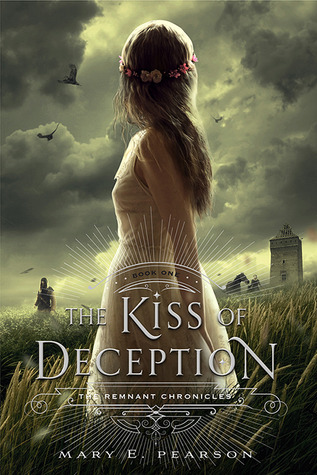 Title:
Kiss of Deception
Author:
Mary E. Pearson
Published:
July 8th 2014 by Henry Holt
Source:
ARC courtesy of the publisher for an honest review
Barnes & Noble/ Goodreads
"In this timeless new trilogy about love and sacrifice, a princess must find her place in a reborn world.

In a society steeped in tradition, Princess Lia's life follows a preordained course. As First Daughter, she is expected to have the revered gift of sight—but she doesn't—and she knows her parents are perpetrating a sham when they arrange her marriage to secure an alliance with a neighboring kingdom—to a prince she has never met.

On the morning of her wedding, Lia flees to a distant village. She settles into a new life, hopeful when two mysterious and handsome strangers arrive—and unaware that one is the jilted prince and the other an assassin sent to kill her. Deception abounds, and Lia finds herself on the brink of unlocking perilous secrets—even as she finds herself falling in love."
First line:
"Today was the day a thousand dreams would die and a single dream would be born."
Thoughts:
Mind = blown. KISS OF DECEPTION gave me one of the biggest book hangovers I've had in such a long time. I couldn't stop thinking about it for weeks. Even as I continued to read other novels, thoughts of Lia, Rafe, and Kaden slowly drifted back into my thoughts. Annoyance followed by excitement crept in as I sat there wondering and questioning what will happen in the sequel. My love and hatred intensified as I thought about the cliffhanger ending. Why a cliffhanger? Why?! Without a doubt, KISS OF DECEPTION is currently in a three-way tie for best book I've read this year thus far.
The novel is told in a very unique way. Though it's not uncommon to have alternating points of views, especially in a fantasy novel, there were alternating chapters told through the prince and the assassin's view. The biggest question I constantly asked myself was which person was which. Is the prince Rafe or is he the assassin? What about Kaden? I don't know. This drove me to the brink of insanity, and I loved every minute of it. The mystery sucked me in allowing me to devoured each and every page.
Now, I know what you're thinking. You would think it would be easy to figure out between the two which one was the assassin. After all, the assassin has to be some kind of jerk, right? WRONG! Both of these guys were completely charming and swoon-worthy. Though Lia is clearly attracted to both, there isn't a love triangle. It's obvious she loves one and not the other. Just please, don't let this person be the assassin.
All in all, I highly recommend KISS OF DECEPTION, especially to fantasy lovers out there. Lia, the heroine, is both likable and smart, which is always a plus. Some people may consider the pacing in the beginning to be a bit slow, but honestly, this is how a lot of fantasy novels are. There has to be some sort of world and character building before the good stuff happens. As for the ending, lets just say it wasn't something I was expecting. Shocking, much?
I do have to mention that KISS OF DECEPTION left me with more unanswered questions than answered ones, but I guess that's why there's a sequel...or shall I say squee-quel? I'll pretty much be squeeing and possibly pacing around my room until the sequel is released, and I get my greedy little paws on it!
Rating:

5 Stars

Favorite Quoites:
"A six-inch blade. I smiled. Did he buy it? It was actually just shy of four—but very nicely weighted—and as Aunt Bernice noted, a little exaggeration was always expected when describing weapons, victories, and body parts."
"We all have our different skills. You're patient to a fault, which sometimes doesn't work to your advantage. I, on the other hand, have the patience of a wet cat. Only on rare occasions does that come in handy."

"Sometimes we're all pushed to do things we thought we could never do."