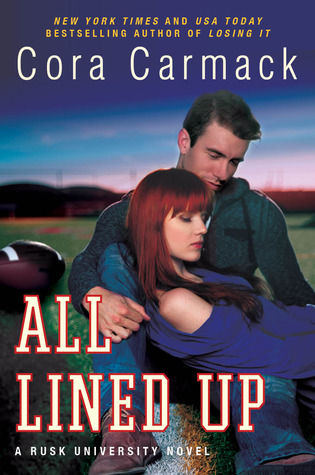 Title:
All Lined Up
Author:
Cora Carmack
Published:
May 13th 2014 by William Morrow Paperbacks
Source:
Bought
Goodreads
"New York Times and USA Today bestselling author Cora Carmack follows up her trio of hits—Losing It, Faking It, and Finding It—with this thrilling first novel in an explosive series bursting with the Texas flavor, edge, and steamy romance of Friday Night Lights.

In Texas, two things are cherished above all else—football and gossip. My life has always been ruled by both.

Dallas Cole loathes football. That's what happens when you spend your whole childhood coming in second to a sport. College is her time to step out of the bleachers, and put the playing field (and the players) in her past.

But life doesn't always go as planned. As if going to the same college as her football star ex wasn't bad enough, her father, a Texas high school coaching phenom, has decided to make the jump to college ball… as the new head coach at Rusk University. Dallas finds herself in the shadows of her father and football all over again.

Carson McClain is determined to go from second-string quarterback to the starting line-up. He needs the scholarship and the future that football provides. But when a beautiful redhead literally falls into his life, his focus is more than tested. It's obliterated.

Dallas doesn't know Carson is on the team. Carson doesn't know that Dallas is his new coach's daughter.

And neither of them know how to walk away from the attraction they feel."
First line:
"In Texas, two things are cherished above all else- football and gossip."
Thoughts:
Look at that first line. Just look about it and think. If you're from Texas, you know that truer words have never been spoken, especially if you grew up in either a small town or an urban subdivision outside a major city (the latter would be me). Also, if you're from
Texas
this world, that must mean you're very familiar with Friday Night Lights (If not, we need to have a serious talk about your life choices). This book is pure Friday Night Lights (minus season two) all wrapped up into a well-written, entertaining, and purely fun read. I must say this is Cora Cormack at her best, and I couldn't be happier.
Like most NA novels, this book is told in alternating points of views. You have Dallas (named after the Cowboys) who is a dancer and wants to separate herself from her dad's coaching life and her past. She hates that she lives in and attends a small town college and dreams about moving somewhere with a more established dancing program. The only thing is her protective and hard-headed father won't let her. Their relationship is strained, leaving Dallas stuck between a rock and a hard place. Now, mix that in with Carson, the newest member of the Rusk "Bleed Red" football team, and you've got a formula for drama. Hello, coach's daughter and one of his football players? Lights, camera, action!
Of the two characters, I found myself enjoying Carson's character more. He was just so laid back and easy to love. I love that he has this alpha protective nature but is also a complete and utter sweetheart. His actions on the field very much describe him as a person. What I mean by this is he's a loyal, hardworking, and passionate man who simply wants to find himself. Hey, isn't that what college is for? Plus, hello...he's a quarterback. You know what that means, right? Killer arms + six-pack abs. WOWSA!
The romance between the two was the perfect mixture of angst, yearning, and steam. Both the chemistry and passion were palpable, and it had me thirsty for me. Oh, and those kissing scenes? Can you say swoon? I'm smiling right now just thinking about it.
Overall, I highly recommend this book to all fans of FNL and well, fabulous books in general. I'm trying to think of any issues I may have had with this novel and am coming up blank. Seriously, I can't emphasize this enough, READ THIS BOOK. As Coach Taylor would say:
"Clear eyes, full heart, can't lose
".
Rating:


5 Stars
Favorite Quotes
"God, do they make WD-40 for flirting? Because I am rusty."
"I swallow and stare and swallow again, because dear, sweet Jesus riding a unicorn, he's perfect."
"I don't know anything about this guy except that his eyes make my mind fuzzy, and his muscled arms make my mouth water, and the things he keeps saying... they burn – beginning in my flushed cheeks, blazing through my blood, and curling between my legs until I feel like I have to squeeze them together just to keep from combusting on the spot."