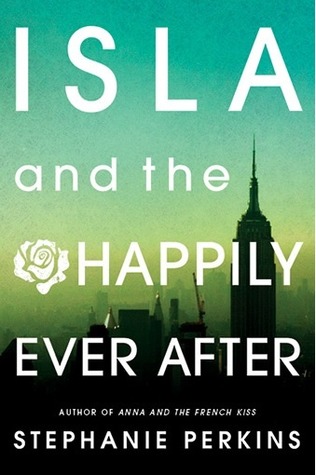 Title:
Isla and the Happily Ever After (Anna and the French Kiss #3)
Author:
Stephanie Perkins
Published:
August 14th 2014 by Dutto
Source:
Bought
Goodreads
From the glittering streets of Manhattan to the moonlit rooftops of Paris, falling in love is easy for hopeless dreamer Isla and introspective artist Josh. But as they begin their senior year in France, Isla and Josh are quickly forced to confront the heartbreaking reality that happily-ever-afters aren't always forever.

Their romantic journey is skillfully intertwined with those of beloved couples Anna and Étienne and Lola and Cricket, whose paths are destined to collide in a sweeping finale certain to please fans old and new.
First line:
"It's midnight, it's sweltering, and I might be high on Vicodin, but that guy- that guy right over there- that's him."
Thoughts:
*slow claps*
I can honestly say this is the best book I have read all year. From the very first sentence, the author pulls you back into her world filled with laughter, friendship, art, and so much love leaving my heart aching by the end. I've recommended quite a few books this year (thus far), but guys, this is THE book. This book tops every other book that you've read and will literally have you both smiling due to it's epicness yet crying because it's over.
One thing I highly recommend doing prior to reading ISLA is rereading both ANNA and LOLA. I personally read ISLA before rereading the other two, then went back and reread them all. The second time around (the one with the rereads) somehow made this whole experience much more magical. Every loose end is tied up, and it's done beautifully. Honestly, prior to the rereads, I forgot who Isla was. I loved that the author left little breadcrumbs in each book leading you towards the end. Quite frankly, I haven't read such genius since J. K. Rowling wrote the Harry Potter series.
Out of the three heroines, I must admit Isla is my favorite. I love that she adores wearing dresses and high heels. As a five foot nothing woman married to a six foot two man, I can assure you sometimes flats just don't work. I actually have a couple engagement photos that look like my husband is walking a small child rather than his future wife. At any rate, like most girls her age, Isla is confused about where her life will take her. Should she attend a university in New York or Paris? Maybe she should explore somewhere she hasn't been? What should she do with her life? As seniors in high school, we all ask ourselves these questions. There are a few that know exactly what they want to do with their lives (Josh being one), but I think it makes it even harder for people that don't know to be around people that do. Perkins does a great job of displaying this in her novel and to me, it makes the characters much more real.
Josh ended up being more complicated than I originally remembered. I didn't realize how sensitive he was nor how boyish he can be, but if anything, he is the epitome of a hopeless romantic. To all the single ladies, if you ever find a guy like this, do not let him go. He is a rarity and sees beauty in this world that you can't even imagine. I love that he's an artist who loves graphic novels. I love it even more that if he sees something spectacular, he has to drop everything and draw it. Memories come and go but drawings? Those can last forever.
Now, my favorite part of this book is the romance. Wowzas! I can see why this book is recommended for people 14 and up. The angst, the confusion, the chemistry, all of it led up to these intricate, perfect moments that had swooning all over the place. I felt like a cesium atom bouncing in a stable gravitational cavity. You guys, I'm actually sighing right now just thinking about it. I will admit sometimes the angst was just too much for me. Agony, so much agony! Can't we all just kiss and make-up? Alas, the world is not perfect, but all we can hope and ask for is a happily ever after.
All in all, as you can see from this ranting and raving review, I cannot recommend ISLA AND THE HAPPILY EVER AFTER enough. I loved this book so much that I ended up not only purchasing it but also purchasing the paperback copies of both ANNA and LOLA as well. Yes, I do own the hardbacks but hey, I have to have my favorite ladies matching, right? Right!
Rating:
5 Stars
Favorite Quotes:
"I am hard on myself. But isn't it better to be honest about these things before someone else can use them against you? Before someone else can break your heart? Isn't it better to break it yourself?"
"There's no story,' I say. 'I saw you one day, and I just knew."

"Josh grins. It's wide and relieved and reveals a rarely seen pair of dimples. I could live inside those dimples for the rest of my life."
"You know that because you asked me out, you're the one who has to pick the place, right?"
Throat. Dry.
Dry throat.
All of the dryness in my throat.
"Whatever you suggest." He grins. "I'll say yes. You'll definitely get a yes. If that helps."