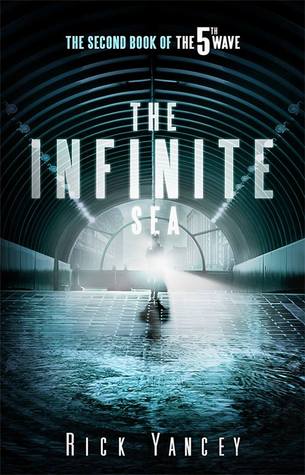 "The riveting follow-up to the New York Times bestselling The 5th Wave, hailed by Justin Cronin as "wildly entertaining."

How do you rid the Earth of seven billion humans? Rid the humans of their humanity.

Surviving the first four waves was nearly impossible. Now Cassie Sullivan finds herself in a new world, a world in which the fundamental trust that binds us together is gone. As the 5th Wave rolls across the landscape, Cassie, Ben, and Ringer are forced to confront the Others' ultimate goal: the extermination of the human race.

Cassie and her friends haven't seen the depths to which the Others will sink, nor have the Others seen the heights to which humanity will rise, in the ultimate battle between life and death, hope and despair, love and hate."
Let us all take a moment and appreciate the cover of THE INFINITE SEA...
*sigh*
Okay, for those of you guys who have read
THE 5th WAVE
, I'm sure you're as excited about
THE INFINITE SEA
as I am. Rick Yancey couldn't write fast enough. We're less than one month away from the release, and it still feels too long. Ack!
Thanks to the fabulous people at Penguin Young Readers Group, I'm not only giving away a copy of
THE INFINITE SEA
, I'm giving away a
SIGNED
copy. WOOHOO! We'll go over that in a bit, but first let's take a moment and watch the epic trailer for this book.
EEK! Are you excited yet? If so, I'm got another surprise for you. You can actually read an except from this novel NOW! Check it out...
Okay, and now it's time for the giveaway. To enter, all you have to do is fill out the Rafflecopter form below, and answer this question in the comments below:
What 3 books would you want to bring in the event of an apocalypse?
This giveaway is only open to US participants and ends September 16th.
a Rafflecopter giveaway
Good luck, and remember... They are coming for us. All of us.
*
Goodreads
*
Follow Rick Yancey on Twitter
*
Follow PenguinTeen on Twitter
*
Rick Yancey's Website
*
Penguin Young Readers Group