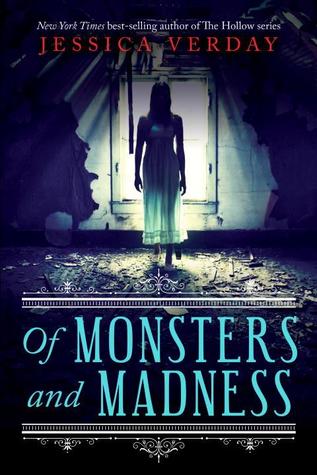 Title:
Of Monsters and Madness
Author:
Jessica Verday
Expected publication:
September 9th 2014 by EgmontUSA
Source:
eARC courtesy of the publisher for an honest review
Goodreads
"A romantic, historical retelling of classic Gothic horror featuring Edgar Allan Poe and his character Annabel Lee, from a New York Times best-selling author.

Summoned to her father's home in 1820's Philadelphia, a girl finds herself in the midst of a rash of gruesome murders in which he might be implicated. She is torn romantically between her father's assistants-one kind and proper, one mysterious and brooding-who share a dark secret and may have more to do with the violent events than they're letting on."
Thoughts:
For those who know me, I'm a huge fan of retellings, especially ones involving classics. Needless to say, when I first heard of this novel, I knew I had to read it. Annabel Lee is probably my favorite of Poe's poems, thus, I was definitely interested in seeing how this novel went. Sadly, though I enjoyed the writing and found it to be lyrical, I just couldn't get into the story.
When I hear the word "retelling", it's exactly what I want. I want to see a connection between the classic poem and also a twist or some sort of modernization that differentiates the two but still leaving me satisfied with the overall connection. While some of the characters are referenced, I didn't this novel to be in any relation to the original poem at all. This was something that really disappointed me. It lacked that connection I was looking for, and I really tried to look past this but found it hard to do so.
Another issue I had with this book is the pacing. So, so slow. I felt like the whole book revolved around character development with very little plot progression. The ending definitely leaves room for a sequel, so maybe that's where the action will be? I hate to say it, but I really did struggle pushing myself to read until the end, and even then, I found myself skipping pages and apparently not missing much in the process. I will say that the last quarter of the book progressed much more rapidly than the rest, and I pretty much devoured this part of the book.
I know it sounds like I'm tearing this book apart, but I'm really not trying to. Like I originally say, the writing is beautiful, and that was the main reason I kept reading it. Verday has a way with words. The thing is, I just don't think this was the book for me. I was expecting one thing, and it ended up being something entirely different. I hear horror and except some, but there really wasn't any. It's more of a Gothic novel with a few disturbing elements.
For the most part, I liked OF MONSTERS AND MADNESS, but I don't see myself reading a sequel (if there is one).
Rating:

3 Stars


Giveaway time! Thanks to the fabulous people at Egmont, I'm giving away a copy of OF MONSTERS AND MADNESS. This giveaway is open to US/CA participants only and ends 9/26.
Be sure to check out the next few stops on the blog tour for my chances to win!
* 9/4: Actin' Up With Books
*9/5: Icey Books
*9/6: Tales of a Ravenous Reader and A Dream Within A Dream
*Link to the rest of the tour

a Rafflecopter giveaway
Bio:
Jessica Verday is the New York Times best-selling author of The Hollow trilogy. She wrote the first draft of The Hollow by hand, using thirteen spiral-bound notebooks and fifteen black pens. The first draft of The Haunted took fifteen spiral-bound notebooks and twenty black pens. The Hidden took too many notebooks and too many pens to count. She lives in Goodlettsville, Tennessee, with her husband. You can visit her online at www.jessicaverday.com.