The Top Ten Books of My Life
by Ally Condie
Over the years I've read a lot of good books. And now that I'm an author, people ask me all the time what my favorite books are. I always have lots of favorites—favorites that I'm reading right now, favorites for my kids, etc. But these ones are books that I have loved for years, that I can honestly say have shaped me as a reader and as a person.
1. Anne of Green Gables, by L.M. Montgomery
. I read this one over forty times, starting in third grade when we bought it on a trip. How do I know how many times I read it? I marked the inside of the cover each time I finished. I loved everything about this book, and I passionately wanted to BE Anne. For several years, in my own mind at least, I was Anne about half of the time. I also think this book changed my vocabulary—it gave me access to lots of words and their meanings that I might not have encountered otherwise.
2. To Kill a Mockingbird, by Harper Lee
. My mom gave it to me in sixth grade and said, "This is a really important book." Later, I got to teach it for a couple of years, and it was absolutely my favorite book to teach. My hands would shake the day we started it in class because I was so excited and nervous--I wanted the kids to all love it the way I did.
3. Peril at End House by Agatha Christie
. On our way to England when I was twelve, my dad bought me a book of Agatha Christie mysteries. I think this is why Agatha and my first wide-eyed exposure to England are inextricably linked; I can't get enough of either Agatha or her country.
4. Saint Maybe, by Anne Tyler
. Another one given to me by my parents, this time my mom. I was in ninth grade. Something about Anne Tyler has always spoken to me; I think it's her normal, everyday, flawed characters trying to do the best they can. This one remains my favorite of her books, although I also adore Digging to America. I think it's because I read it first.
5. Cry, the Beloved Country, by Alan Paton
. Also read in ninth grade, but not for school. My dad gave it to me. At first, I thought it was going to be boring, but it only took a few pages and I was hooked. I sobbed harder at the ending of this book than any book before or since.
6. Dandelion Wine, by Ray Bradbury
. I read this book in ninth grade. (Again with ninth grade! That was a good year!) I also loved teaching this one. It's about a summer in the life of a boy who realizes that he is alive. I could and can relate to it many different levels.
7. Crossing to Safety, by Wallace Stegner
. My grandmother gave it to me in tenth grade and said, "If you want to read some gorgeous writing, read this." She was right. This book is different every time I read it because I find something new every time I read it.
8. Speak, by Laurie Halse Anderson
. I was twenty-two, and teaching at Timpview High School. Another English teacher gave me this and said, "This is going to knock your socks off." He was right. I think about this book all the time. It was a game-changer for people personally, and for young adult fiction in general.
9. Where the Mountain Meets the Moon, by Grace Lin
. I love this book because it feels timeless, and because the story is about a girl who did something everyone said was impossible. The illustrations are also exquisite.
10. Book of A Thousand Days, by Shannon Hale
. Everything about this book is achingly perfect. The heroine, the prose, the individual beauty of each scene and of the story as a whole.
Ally, thank you so much for joining us today! A special thanks to Jen at Penguin Random House for putting this fabulous tour together.
Now, it's your chance to join and show your support for TEAM
ATLANTIA ABOVE
! Simple leave a comment and give a shout out to the fabulous Ally Condie. Keep checking back, too. There may be a giveaway on this post later on today...
Just saying.
AND DON'T FORGET TO TWEET #AtlantiaAbove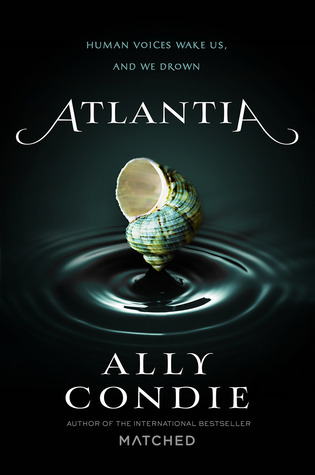 "Can you hear Atlantia breathing?

For as long as she can remember, Rio has dreamt of the sand and sky Above—of life beyond her underwater city of Atlantia. But in a single moment, all her plans for the future are thwarted when her twin sister, Bay, makes an unexpected decision, stranding Rio Below. Alone, ripped away from the last person who knew Rio's true self—and the powerful siren voice she has long hidden—she has nothing left to lose.

Guided by a dangerous and unlikely mentor, Rio formulates a plan that leads to increasingly treacherous questions about her mother's death, her own destiny, and the complex system constructed to govern the divide between land and sea. Her life and her city depend on Rio to listen to the voices of the past and to speak long-hidden truths."