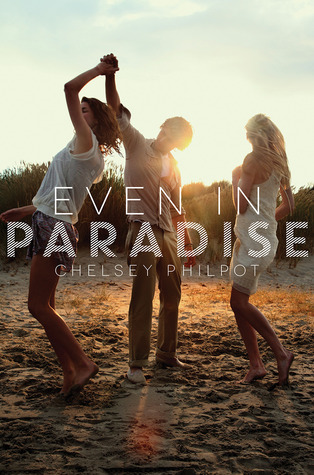 Title:
Even In Paradise
Author:
Chelsey Philpot
Expected Publication:
October 14th 2014 by HarperCollins
Source:
ARC courtesy of the publisher for an honest review
Goodreads
"When Julia Buchanan enrolls at St. Anne's at the beginning of junior year, Charlotte Ryder already knows all about the former senator's daughter. Most people do... or think they do.

Charlotte certainly never expects she'll be Julia's friend. But almost immediately, she is drawn into the larger than-life-new girl's world—a world of midnight rendezvous, dazzling parties, palatial vacation homes, and fizzy champagne cocktails. And then Charlotte meets, and begins falling for, Julia's handsome older brother, Sebastian.

But behind her self-assured smiles and toasts to the future, Charlotte soon realizes that Julia is still suffering from a tragedy. A tragedy that the Buchanan family has kept hidden … until now."
First line:
"I was just drifting off to sleep when I heard someone throwing up in the bushes outside my dorm room."
Thoughts:
I'll admit, what originally drew me to this novel was the cover. It screamed light beach read, and I had to get my hands on it. What I wasn't expecting were the intense amount of emotions that came with this novel. EVEN IN PARADISE is a book about friendship, first love, and the bittersweet nature of growing up.
The novel is broken down into three parts: The beginning, the middle, and the end. It starts with the first day Charlotte (who will later be deemed Charlie) officially meets Julia. It's not exactly an ideal meeting, considering what happens to Charlotte's slippers, but it's one of those life changing moments that you'll one day look back on and think of as the good old days. Charlie is immediately infatuated with Julia, her life, and her family. After all, Julia is the campus mystery and rumor-mill. One thing I have to admit that I didn't like about Charlie was how quickly she abandoned her old friends for Julia. She even admits to knowing what she was doing and not being able to stop. Just reading about it hurt my heart a bit. I know this happens to everyone, and it's often part of growing up, but I guess I just wish it didn't have to be one or the other.
Julia isn't exactly an angel. She's sweet and can be a good friend, but she's reckless. The entire Buchanan clan have been through devastating experiences, and Julia is coping the only way she knows how. I love that Charlie is not only a fantastic friend to Julia but also a great addition to her family. I always find it fascinating how one person can truly change an entire family's dynamic, especially if it's the right person. The best thing about this novel is reading about Julia and Charlie's friendship, and how it affected and changed them both. Out of the two girls, Charlie was probably my favorite. There were times where I questioned her actions, however, she ended up staying true to herself, and I really admired that.
As far as romance goes, I very much enjoyed the innocence and sweetness of Sebastian and Charlie's relationship. I usually prefer my books to be oozing with swoon, but I'm so grateful that the book stayed true and focused more on Julia and Charlie. The moments with Sebastian were simply perfect, with the right about of angst, love, and a bit of heartache as well.
After reading the opening page and seeing the word "Beginning", it left me with an uneasy feeling as to what's to come. EVEN IN PARADISE did not disappoint. From the opening of the book to the end, the overall tale balanced itself out, and never once drifted from the story line. I love how everything went full circle and that the story follows up with the characters in the end. Not necessarily an epilogue but enough information to give you closure.
Overall, I recommend EVEN IN PARADISE to fans of Lorraine Zago Rosenthal (author of OTHER WORDS FOR LOVE) and Huntley Fitzpatrick (WHAT I THOUGHT WAS TRUE). It's a great coming of age book that will easily sweep you into the world of luxury, scandal, and many, many firsts. Toss a penny and make a wish. You'll get that reference once you read the book.
Rating:

4 Stars

Favorite Quotes
"Even knowing, as I do now, that grace, power, and, yes, love can hide the darkest elements of the human heart, I would do it all again."
"Before that night, I didn't grasp that the shadows that sometimes crossed her face weren't momentary clouds passing in front of the sun. Her deep silences were more than daydreams. And her habit of standing with her arms wrapped around her ribs was a way of holding herself together.

I didn't get there must be balance.
She couldn't hold so much life, light and joy without also containing their opposites."