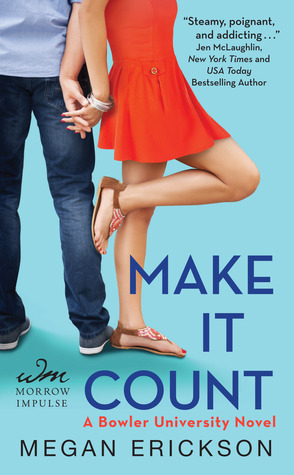 Title:
Make It Count (Bowler University #1)
Author:
Megan Erickson
Published:
June 3rd 2014 by William Morrow Impulse
Source:
Bought
Goodreads
"Kat Caruso wishes her brain had a return policy, or at least a complaint hot-line. The defective organ is constantly distracted, terrible at statistics, and absolutely flooded with inappropriate thoughts about her boyfriend's gorgeous best friend, Alec…who just so happens to be her brand new math tutor. Who knew nerd was so hot?

Kat usually goes through tutors like she does boyfriends—both always seem to bail when they realize how hopeless she is. It's safer for her heart to keep everyone at arm's reach. But Alec is always stepping just a little too close.

Alec Stone should not be fantasizing about Kat. She's adorable, unbelievably witty, and completely off limits. He'd never stab his best friend in the back…

But when secrets are revealed, the lines of loyalty are blurred. To make it count, Alec must learn messy human emotions can't be solved like a trigonometry function. And Kat has to trust Alec may be the first guy to want her for who she is, and not in spite of it."
First line:
"Kat chewed on her pen and studied her tutor's bent head."
Thoughts:
Is there anything better than a fun and cute read? I had high expectations prior to reading MAKE IT COUNT, which came recommended to me by my twinnie Alexa at
Alexa Loves Books
. Anyone who reads her blog knows that this girl has GREAT taste in books, fashion, and food. You guys, I cannot tell you how many times MAKE IT COUNT made me smile and giddy. I had the hardest time putting this book down and continuing with my every day life. It's truly that good.
I was a little worried going into this book, being that Alec is Kat's boyfriend's best friend. In my eyes, there is nothing worse than a book that condones cheating. It's basically the kiss of death for me. Not to worry, folks, because MAKE IT COUNT shows both the frustration and complexity that comes with forbidden love without the moral turpitude.
Like most New Adult novels out there, MAKE IT COUNT alternates POVs between the two main characters. Of the two, I think I enjoyed Alec's point of view more than Kat. Reading about his struggle containing his attraction to Kat, as well as his thoughts on all of the drama that unfolded, kept me intrigued. I constantly wondered what he would do next, especially since he's a genuinely good guy and loyal friend. His inner turmoil regarding his father touched me in a way I didn't think would happen. The feels definitely caught me off-guard. No wonder he always seems so angry at the bar!
I also enjoyed reading about Kat's learning issues, but I was also surprised that none of the other characters caught onto why she has such a difficult time. I figured it out right away, but it's strange that her friends, her brother, even Alec didn't catch on sooner. At any rate, her wandering, usually rambling, thoughts definitely made me "LOL" on occasion. Just don't tell Lea I said that. I hear she hates acronyms.
Oh, and for anyone curious, there's a Brazilian dish mentioned in this book that sounded so tasty, I immediately searched for a recipe and plan on making it soon...or should I say making it count? Food and books, what can I say? I love them both!
Overall, MAKE IT COUNT surprised me in a way I wasn't expecting it to (but in a good way). I really loved it and would recommend it to fans of BOOMERANG by Noelle August and anyone out there looking for a genuinely funny, sexy, and light-hearted book. I loved it so much, I immediately bought MAKE IT RIGHT (the sequel), and am now I'm impatiently waiting for MAKE IT LAST. Is it January yet? Sheesh!
Rating:
5 Stars
Favorite Quotes:
"She imagined this would be an amazing scene in a movie, where he whispered in a tortured voice, Kat, I want you. I've always wanted you. Let's retreat to my boudoir and consummate our mutual attraction...

His lips were moving, and she snapped back to attention.

'...It was acting up, so flush twice'"

He didn't want to tell her he remembered the smoothie was green because it matched her green sweater she was wearing that day. Because that definitely be weird. She he shrugged. 'Yeah.'"
"You know, nerd is the new black. I read that in Cosmo."