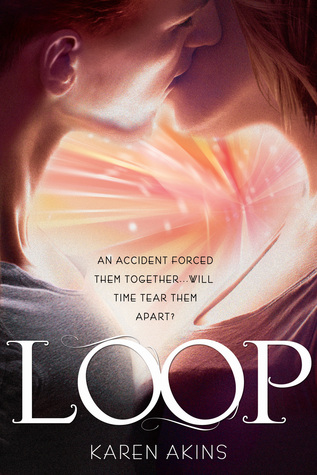 Title:
The Loop (Loop #1)
Author:
Karen Akins
Published:
October 21st 2014 by St. Martin's Griffin
Source:
eARC courtesy of the publisher for an honest review
Goodreads
"At a school where Quantum Paradox 101 is a required course and history field trips are literal, sixteen year-old time traveler Bree Bennis excels…at screwing up.

After Bree botches a solo midterm to the 21st century by accidentally taking a boy hostage (a teensy snafu), she stands to lose her scholarship. But when Bree sneaks back to talk the kid into keeping his yap shut, she doesn't go back far enough. The boy, Finn, now three years older and hot as a solar flare, is convinced he's in love with Bree, or rather, a future version of her that doesn't think he's a complete pain in the arse. To make matters worse, she inadvertently transports him back to the 23rd century with her.

Once home, Bree discovers that a recent rash of accidents at her school are anything but accidental. Someone is attacking time travelers. As Bree and her temporal tagalong uncover seemingly unconnected clues—a broken bracelet, a missing data file, the art heist of the millennium—that lead to the person responsible, she alone has the knowledge to piece the puzzle together. Knowledge only one other person has. Her future self.

But when those closest to her become the next victims, Bree realizes the attacker is willing to do anything to stop her. In the past, present, or future. "
Thoughts:
Don't you love that feeling you get when a book completely consumes you from the beginning until the very end? This, my friends, is how I felt about LOOP. Hilarious, witty and captivating are just a few words that best describe this novel in a nutshell.
First off, I have to mention that the main reason why I was so anxious to read this book is because it came highly recommended to me by my friend Andi from
Andi's ABCs
. I was a bit skeptical, being that time-traveling books are typically a hit or miss with me, and the only two I really loved were THE TIME TRAVELER'S WIFE and the HOURGLASS trilogy. It took about 10 pages for me to forget my hesitation and fall in love with this novel. I completely adored Bree. She's comical and an overall fun character. I loved that she "accidentally" holds a younger Finn captive. I also love that, in order to prevent any future consequences, she goes back and tries to fix her mistakes. Sadly, she doesn't quite go back far enough. Then, as if these blunders weren't enough, she ends up taking an older, hotter Finn back with her to her present day.
Now, can we please talk about how amazing Finn is? He's just that charming, sweet, next door neighbor type of guy you wish you knew. There were so many moments when I just wanted to reach into the book and hug him. Give him puppy kisses and whatnot. I love how Bree is initially annoyed with him but grows to love him. To me, it made him more realistic and the romance more believable. Once you start reading THE LOOP, I know you'll fall in love with him the way I did.
Overall, I recommend LOOP to anyone out there looking for a unique, fun, and all-consuming read. I seriously cannot wait for the sequel and believe everyone should read it, just so I can have someone to talk to about it (with spoilers, as oppose to spoiler-free). If you read it (or win the giveaway!),
tweet me
(Lena1xoxo), so we can discuss all of the fabulous things that make up THE LOOP.
Alas, for now, I must just settle with waiting for the sequel (
TWIST
) coming out in March.
Rating:
5 Stars
Giveaway time!
Thanks to the fabulous people at St. Martin's Griffin, I am giving away a finished copy of THE LOOP. All you have to do is fill out the Rafflecopter form below. This giveaway is only open to US participants and ends November 16th. Good luck, and may the odds be ever in your favor!
a Rafflecopter giveaway