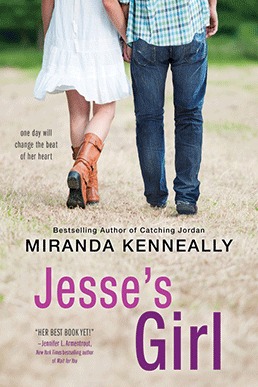 Waiting on Wednesday is a weekly meme hosted by Jill at Breaking The Spine. It features each bloggers most anticipated books. My pick this week is
JESSE'S GIRL by Miranda Kenneally
(and now the song is stuck in my head...).
"Everyone at Hundred Oaks High knows that career mentoring day is a joke. So when Maya Henry said she wanted to be a rock star, she never imagined she'd get to shadow *the* Jesse Scott, Nashville's teen idol.

But spending the day with Jesse is far from a dream come true. He's as gorgeous as his music, but seeing all that he's accomplished is just a reminder of everything Maya's lost: her trust, her boyfriend, their band, and any chance to play the music she craves. Not to mention that Jesse's pushy and opinionated. He made it on his own, and he thinks Maya's playing back up to other people's dreams. Does she have what it takes to follow her heart—and go solo?"
Why I Can't Wait:
Maya Henry? Is she related to Sam Henry? I just squeed a bit. Anywho, I love each and every one of Miranda's books. They're fun and witty with these lovable characters I can't forget (HA, THINGS I CAN't FORGET). I love that this particular book involves music. I'm sitting here picturing a young me chasing after a very 90's Justin Timberlake- highlights, perm, and all! Now comes the hard part.
The waiting part.
Expected publication
: July 1st 2015 by Sourcebooks Fire
*
Add it on Goodreads.
*
Preorder it at B&N.
*
Excerpt from Miranda's Website