Welcome one and all to the next stop in the ZODIAC Blog Tour. Three cheers for Romina Russell. Hip hip...HOORAY! Hip hip...HOORAY! Hip hip...HOORAY! Romina is here today to talk about ZODIAC and things like her favorite book of 2014. There will be a giveaway, so keep an eye out for that. But first, here's Romina!
1. How did you come up with the idea for ZODIAC?
My editor, Liz Tingue, and I came up with ZODIAC together—she brought her love of astrology, and I brought my passion for Space. We actually met ten years ago in a college class and have since been hoping for the chance to team up creatively—so I think ZODIAC was always in our stars.
2. Did you base any of the characters on people you know in your life?
I didn't! I'm not sure I know anyone who is a perfect representation of their Zodiac sign, so I had to craft new people who fit the parameters of this universe.
3. What is your sign, and what does it say about you? Do you believe it to be true?
I'm from House Virgo, and we're supposedly fussy, OCD, practical, analytical, controlling, perfectionists…basically, a bunch of words I've heard before…a few times…maybe.
4. What are you currently working on now?
The sequel to ZODIAC! It's so hard to keep quiet about what happens to Rho next….
Oh?!?!? *Ahem* You and I can just talk about that later. Let's continue.
5. What is your favorite book that you read in 2014?
WINTER FALLS by Nicole Maggi, the first installment in a new paranormal trilogy.
6. In Twitter form (140 characters or less), tell everyone why they should read ZODIAC.
ZODIAC is a Sci Fi series that's more Fi than Sci, featuring 13 made-up cultures, 11 futuristic technologies, 2 hot guys, and 1 fallible MC.
If you haven't heard of ZODIAC yet, here's your chance!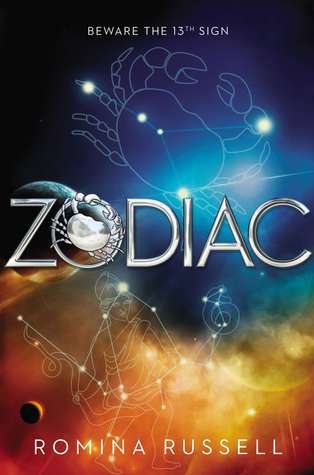 "At the dawn of time, there were 13 Houses in the Zodiac Galaxy. Now only 12 remain….
Rhoma Grace is a 16-year-old student from House Cancer with an unusual way of reading the stars. While her classmates use measurements to make accurate astrological predictions, Rho can't solve for 'x' to save her life—so instead, she looks up at the night sky and makes up stories.
When a violent blast strikes the moons of Cancer, sending its ocean planet off-kilter and killing thousands of citizens—including its beloved Guardian—Rho is more surprised than anyone when she is named the House's new leader. But, a true Cancerian who loves her home fiercely and will protect her people no matter what, Rho accepts.
Then, when more Houses fall victim to freak weather catastrophes, Rho starts seeing a pattern in the stars. She suspects Ophiuchus—the exiled 13th Guardian of Zodiac legend—has returned to exact his revenge across the Galaxy. Now Rho—along with Hysan Dax, a young envoy from House Libra, and Mathias, her guide and a member of her Royal Guard—must travel through the Zodiac to warn the other Guardians.
But who will believe anything this young novice says? Whom can Rho trust in a universe defined by differences? And how can she convince twelve worlds to unite as one Zodiac?
Embark on a dazzling journey with ZODIAC, the first novel in an epic sci-fi-meets-high-fantasy series set in a galaxy inspired by the astrological signs. "
*
Goodreads
*
Zodiac Website
***GIVEAWAY TIME***
Thanks to the fabulous people at Penguin Random House, I am giving away a copy of ZODIAC to one very lucky winner. All you have to do is fill out the Rafflecopter form below. This giveaway is only open to US participants and ends December 28th.
Good luck, and may the odds be ever in your favor.
a Rafflecopter giveaway