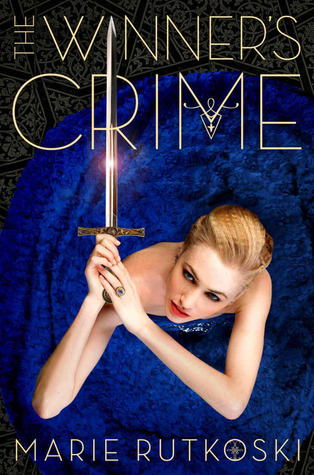 Title:
The Winner's Crime (The Winner's Trilogy #2)
Author:
Marie Rutkoski
Expected publication:
March 3rd 2015 by Farrar Straus Giroux
Source:
eARC courtesy of the publisher for an honest review
Goodreads
"Book two of the dazzling Winner's Trilogy is a fight to the death as Kestrel risks betrayal of country for love.

The engagement of Lady Kestrel to Valoria's crown prince means one celebration after another. But to Kestrel it means living in a cage of her own making. As the wedding approaches, she aches to tell Arin the truth about her engagement…if she could only trust him. Yet can she even trust herself? For—unknown to Arin—Kestrel is becoming a skilled practitioner of deceit: an anonymous spy passing information to Herran, and close to uncovering a shocking secret.

As Arin enlists dangerous allies in the struggle to keep his country's freedom, he can't fight the suspicion that Kestrel knows more than she shows. In the end, it might not be a dagger in the dark that cuts him open, but the truth. And when that happens, Kestrel and Arin learn just how much their crimes will cost them."
First line:
"She cut herself opening the envelope."
Thoughts:
The inevitable moment when a book completely takes your breath away, and all you can do is put the book down and clap. That is the best way to sum up my feelings for THE WINNER'S CRIME. How is it that Marie Rutkoski can write my favorite book of 2014 and follow it up with (most likely) my favorite book of 2015? I mean, I loved
THE WINNER'S CURSE
, but I really, really, really loved THE WINNER'S CRIME regardless of how many times the author broke my heart and continued to stomp on it. If ever there was a book to look out for in 2015, this is the book!
The book starts off a few months after THE WINNER'S CURSE. Kestrel is in Valoria adjusting to her new life as the fiancee of the emperor's son. Though she is use to living a privileged life, she isn't use to the dynamics and drama that comes with living at court. People, including the emperor and her betrothed, are playing games with her, and she must choose her next move wisely.
Meanwhile, you have Arin back in Herran adjusting to his life as the governor. Of all the characters in this novel that affected me, my heart ached for Arin the most. He is trying his darndest to understand why Kestrel would chose Prince Verex over him. Of course, we know why and how this isn't the case at all, which probably makes reading Arin's point of view that much harder.
I don't think this is spoiling anything, being as it was inevitable, but whenever Kestrel and Arin finally saw each other for the first time since she sailed off, I pretty much fell out of my seat. Sparks everywhere, chemistry jumping out of the pages, and sweet mercy, all I wanted Kestrel to do was run off with Arin and give everyone the middle finger. Screw the politics and Valoria! Alas, they can't. Too much at stake. They're free but not free.
Now, fair warning to you all- This book is pure torture. I'm usually 50/50 when it comes to angst. THE WINNER'S CRIME, however, has plenty of it, and it is spectacular. I enjoyed watching the games unfold and seeing how both Valorians and Herrani can be manipulative. As they say, keep your friends close and your enemies closer. Betrayal runs deep in this novel, and I'm not going to sit here, lie to you or tell you how everything will be okay. It will hurt, and you're going to love it.
If you thought the cliffhanger in the first book was shocking, wait until you read THE WINNER'S CRIME. Worst book hangover ever!
Seriously.
I cannot recommend this book enough. It has everything you could possibly want in a novel and so much more. If you don't enjoy well-written novels featuring the best heroine I've read in ages and a brooding, swoon worthy
love interest, this isn't the book for you. Otherwise, you need this book in your life, and you need it now! Of all the books I cannot wait to read, The Winner's Trilogy #3 is on the top of the list. Until then, I guess I'll just experiment and figure out how I can eat a bowl of pink mousse with a sugar spoon.
Rating:

5 Stars