For those who have read
THE WINNER'S CURSE
, you know that the curse is getting what you want, but at a price too high. As part of the tour, we're asked to answer this, let's be honest, complex question:
What would you pay too much for?
Okay, I know I could pay too high a price to end hunger or for world peace, but I feel like having a bit more fun, since it's a hypothetical question and all. Thus, my entirely superficial and fangirly answer:
I would personally pay too high a price to visit the set of OUTLANDER and make out with Sam Heughan. Hello, he's Jamie! Can you really blame me?
I'd probably have to add him to my "list", being married and all...and this will never happen in a million, billion years, but a girl can dream, right? Let me just add an obligatory winky face ;), and we're all set!
Giveaway:
Thanks to the fabulous people at Macmillan, I am giving away a copy of
THE WINNER'S CRIME
. To enter, just fill out the Rafflecopter form below. This giveaway is only open to US participants and ends March 1st. Be sure to chat about the tour online using the hashtag #TheWinnersCurse! Good luck, and may the odds be ever in your favor.
Also, be sure to check out the rest of the
blog tour
for more chances to win!
a Rafflecopter giveaway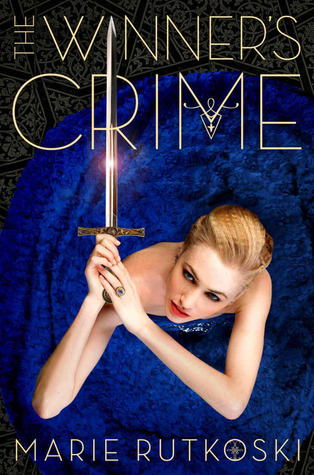 "Book two of the dazzling Winner's Trilogy is a fight to the death as Kestrel risks betrayal of country for love.

The engagement of Lady Kestrel to Valoria's crown prince means one celebration after another. But to Kestrel it means living in a cage of her own making. As the wedding approaches, she aches to tell Arin the truth about her engagement…if she could only trust him. Yet can she even trust herself? For—unknown to Arin—Kestrel is becoming a skilled practitioner of deceit: an anonymous spy passing information to Herran, and close to uncovering a shocking secret.

As Arin enlists dangerous allies in the struggle to keep his country's freedom, he can't fight the suspicion that Kestrel knows more than she shows. In the end, it might not be a dagger in the dark that cuts him open, but the truth. And when that happens, Kestrel and Arin learn just how much their crimes will cost them. "
*The Winner's Curse Site
*Play Bite and Sting