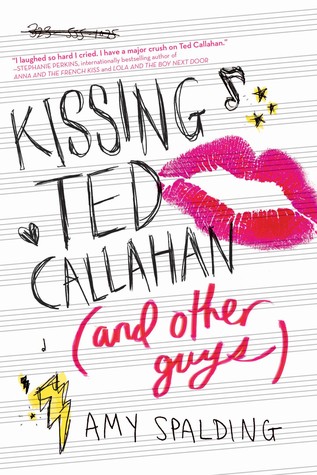 Title:
Kissing Ted Callahan
Author:
Amy Spalding
Published:
April 7th 2015 by Poppy
Source:
ARC courtesy of the publisher for an honest review
Goodreads
"Nick and Norah's Infinite Playlist meets Easy A in this hilariously realistic story of sneaking out, making out, and playing in a band.

After catching their bandmates in a compromising position, sixteen-year-old Los Angelenos Riley and Reid become painfully aware of the romance missing from their own lives. And so a pact is formed: they'll both try to make something happen with their respective crushes and document the experiences in a shared notebook.

While Reid struggles with the moral dilemma of adopting a dog to win over someone's heart, Riley tries to make progress with Ted Callahan, who she's been obsessed with forever-His floppy hair! His undeniable intelligence! But suddenly cute guys are popping up everywhere. How did she never notice them before?! With their love lives going from 0 to 60 in the blink of an eye, Riley and Reid realize the results of their pact may be more than they bargained for."
Thoughts:
Wait, Nick and Norah's Infinite Playlist meets Easy A? Those are two of my favorite things, so naturally I had to read this book. Now, the question is did it live up to such high regards? In this case, my answer is yes. This book promises to be quirky and fun, and it definitely delivers in that department. The only thing is, have you ever read a book where some of the circumstances felt a bit too childish for the age group? If so, this best explains some of my feelings towards certain aspects. I'll further explain, but for now know that all in all I found KISSING TED CALLAHAN to be an entertaining, often laugh out loud experience.
First off, let's talk about the journal. These girls swap love and relationship advice/experiences in a journal which they share. The cover is definitely great, because it looks like how I would assume the notebook would look. My only complaint about this is it felt like something a tween would do and not a 16 year old. Maybe times have changed since I was that age, but I remember my friends and I sharing something called a slambook back when we were in middle school (not high school). It basically noted everyone we thought were cute, smart, would be our version of the "prom" (i.e. 7th and 8th grade dance) king and queen, and so no. Nothing malicious, but basically our way of stalking our crushes with our friends pre-Facebook/Twitter/Instagram era. Anyway, my point of explaining this is the notebook concept felt like something that would be done in middle school, not high school. With that said, it was still entertaining, and the story would not have been the same without it. Just my two cents though.
Now that I got the negative out of the way, let's talk about everything I loved about this novel. I loved Riley. Riley is hysterical and hands down one of the funniest characters I have ever met in any book or even TV series. When I said laugh out loud, I meant it. Fair warning, you will find yourself bursting with laughter if you decide to read this book in public. Just saying.
I enjoyed reading about Riley's complicated, often messy life and how she dealt with friendships, crushes, and everything in-between. The novel would not have been the same without her, and I don't say that because she's the protagonist. I say that, because the author created a three dimensional character out of her. She has so much personality to the point of feeling real.
When it comes to Reid, she's in many ways Riley's opposite. Keep in mind, this all starts because the girls are in a band with Lucy and Nathan and caught them getting down and dirty. This sparks up their need to experience relationships with the opposite sex and document it, giving each other advice and kind of sharing their experiences together. Reid isn't as outgoing nor confident as Riley. More insecure, I guess? At any rate, the dynamics between the two is interesting and made for a great friendship.
Though this book deals a lot with chasing boys, I feel like it centered more around friendships and how easily they can be lost because of boys. It's a reminder that guys may come and go but the best friendships last forever. That part of the novel felt real to me. Overall, if you love slightly cheesy but fantastic 90's movies such as Ten Things I Hate About You and Never Been Kissed, KISSING TED CALLAHAN is the book for you.
Rating:

4 Stars