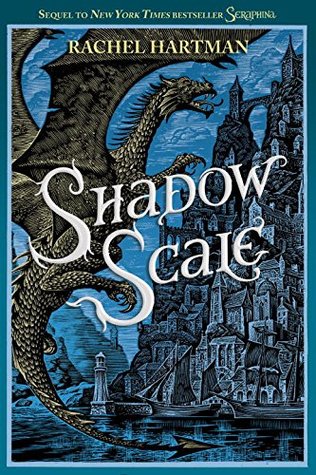 Title:
Shadow Scale (Seraphina #2)
Author:
Rachel Hartman
Published:
March 10th 2015 by Random House Children's Books
Source:
ARC courtesy of the publisher for an honest review
Goodreads
"Seraphina took the literary world by storm with 8 starred reviews and numerous "Best of" lists. At last, her eagerly awaited sequel has arrived—and with it comes an epic battle between humans and dragons.

The kingdom of Goredd: a world where humans and dragons share life with an uneasy balance, and those few who are both human and dragon must hide the truth. Seraphina is one of these, part girl, part dragon, who is reluctantly drawn into the politics of her world. When war breaks out between the dragons and humans, she must travel the lands to find those like herself—for she has an inexplicable connection to all of them, and together they will be able to fight the dragons in powerful, magical ways.

As Seraphina gathers this motley crew, she is pursued by humans who want to stop her. But the most terrifying is another half dragon, who can creep into people's minds and take them over. Until now, Seraphina has kept her mind safe from intruders, but that also means she's held back her own gift. It is time to make a choice: Cling to the safety of her old life, or embrace a powerful new destiny?"
Thoughts:
Good gravy, I have been waiting a long time to read the sequel to SERAPHINA, especially since the ending for the novel leaves with a bit of a cliffhanger. Though I really enjoyed SHADOW SCALE, I must admit that it is not my favorite novel. It's definitely well-written to the point of being beautiful, but the ending left me with my head spinning. Once I put the book down, the whats and huhs starting pouring out of me. We'll get to that in a bit, but let's start from the beginning of this journey.
As you can see in the summary, Phina is in for a bit of a journey. I loved that the author chose to take her to new lands and exploring different cultures, languages, and people. The world building is incredible and felt remarkably real. Though I missed Kiggs, I'm also grateful this novel was more about adventure and deception versus romance. There will be new characters, but be careful in who you trust. Everyone seems to have ulterior motives, and it'll have you questioning whether they're good, evil, or something else all together. War is on the horizon, so be cautious.
Now, one thing I must admit is I did struggle with the pacing a bit. While it was interesting and I adored meeting the new characters (especially the ityasaari), I found myself struggling through some of this. Once the novel started picking up, I enjoyed it more, but then I would encounter a scene or two that fell a bit flat.
Also, the ending. I personally felt like it was a bit rushed. Everything happened so fast, especially in the last chapter or two. There was closure, some strange and some great. In regards to the Phila-Keggs-Selda love triangle, I just wasn't happy with how it was wrapped up. I'm not sure how I wanted it to turn out, but this was just too strange for me.
Overall, I liked SHADOW SCALE and would recommend it to those who enjoyed SERAPHINA. It's a good follow-up, and it has enough closure to satisfy any reader. Whether this is the last book or if there's more, the ending is fitting and doesn't leave the reader with too many unanswered questions. I still continue to look forward to Hartman's books and cannot wait to read whatever she's working on next!
Rating:
3.5 Stars
Giveaway:
Thanks to the amazing people at Penguin Random House, I am giving away a copy of SHADOW SCALE. This giveaway is only open US/CA participants and ends April 18th. No, this isn't an April Fool's joke, so what are you waiting for? Good luck, and may the odds be ever in your favor.
a Rafflecopter giveaway