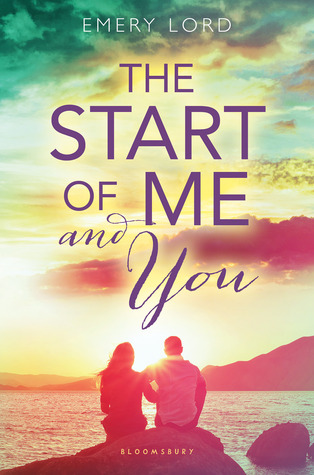 Title:
The Start of Me and You
Author:
Emery Lord
Published:
March 31st 2015 by Bloomsbury
Source:
ARC courtesy of the publisher for an honest review
Goodreads
"Following her pitch-perfect debut Open Road Summer, Emery Lord pens another gorgeous story of best friends, new love, & second chances.

Brimming with heartfelt relationships and authentic high-school dynamics The Start of Me and You proves that it's never too late for second chances.

It's been a year since it happened—when Paige Hancock's first boyfriend died in an accident. After shutting out the world for two years, Paige is finally ready for a second chance at high school . . . and she has a plan. First: Get her old crush, Ryan Chase, to date her—the perfect way to convince everyone she's back to normal. Next: Join a club—simple, it's high school after all. But when Ryan's sweet, nerdy cousin, Max, moves to town and recruits Paige for the Quiz Bowl team (of all things!) her perfect plan is thrown for a serious loop. Will Paige be able to face her fears and finally open herself up to the life she was meant to live? "
Thoughts:
After reading Lord's debut novel OPEN ROAD SUMMER (and completely loving it), I knew I had to get my hands on THE START OF ME AND YOU as soon possible. I knew it would be good, but what I wasn't expecting were the amount of feelings I'd endure over the course of this novel. Ups, downs, love, heartache, and above all else friendship- Those are only a handful of things you'll experience along this journey. Sit back and enjoy the ride, because once it end, all you'll want to do is flip to the beginning and read it all over again.
First and foremost, I must declare to the world my love of Max Watson. I'm a sucker for a nerdy boy but oh my goodness, just like the book, he's so much more than that. Everyone in their life deserves a Max, whether he merely is your friend or something more (hopefully something more!). I cannot imagine anyone not falling in love with this guy, and I cannot imagine this novel without him. To put it simply, he completely stole the show.
Paige was definitely a great heroine. Can you even imagine losing a boyfriend so young? To the adults out there, remember how all-consuming your first love was? Those feelings were so intense, and I can't fathom the hurt Paige went through and then having to move on. The author knows how to write raw and pure emotions making it easy to just feel everything Paige felt. I love her for it, even though there were times when I was reading this book in public and almost burst into tears. Okay, I lied... I totally started bawling in public and attempted to hide it behind the book. It was worth it though.
If you're looking for the perfect Spring-Summer-Fall-Winter read, THE START OF ME AND YOU is the book for you. Emery Lord sucked me out of a reading slump, and then threw me into another one. Of all the books I read this year thus far, this is definitely in my top two (the other being THE WINNER'S CRIME). I recommend this book over and over again and look forward to experiencing this journey multiple times. I see rereads in the future!
Rating:

5 Stars